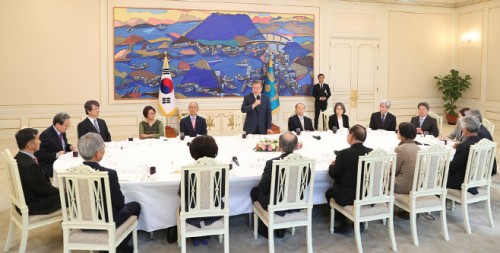 President Moon Jae-in is saying words of greeting at a meeting with former government officials and experts for advice on social issues at Cheong Wa Dae on May 2, 2019./ Source: Cheong Wa Dae
By AsiaToday reporter Hong Sun-mi
"The Democratic Party has been in power for two years now, but it acts like an opposition party. It is difficult to solve intensifying political confrontations between the ruling and opposition parties unless the president takes the initiative. The president should make an effort to directly solve the issue," former Environment Minister Yoon Yeo-joon said.
Elder statesmen and stateswomen recommended an urgent settlement to the deepening political stand-offs over fast-tracking key reform bills in a luncheon meeting hosted by President Moon Jae-in on Thursday.
Around a dozen of senior opinion leaders including former Prime Minister Lee Hong-koo, former chief presidential secretary Kim Woo-shik, and former Environment Minister Yoon Yeo-joon attended the two-hour long meeting held in a move to gather their advice on a range of issues, ahead of the second anniversary of Moon's inauguration next week.
"My biggest concern is that we are seeing increased hostility among citizens and politicians with different ideologies," Moon said. "Many tell me that I should work more as a president for collaborative governance. Obviously, I will try my best."
In response, Yoon said, "We, the opposition party, have a stereotyped idea that we should clearly show our position as an opposition party when we hand over the reins of power, so we tend to stage struggle to the extremes at the beginning. But when the presidential election comes up, we tend to show our position as an alternative party," Yoon said. "If you understand this, you may have a different idea of how to solve the issue as a president."
"A president is not a president for a party, but for everyone," Kim Woo-shik said. "I ask the president to harmonize, be fair, and open the offices to the talented."
Song Ho-keun, a chair-professor at POSTECH, suggested that a shift in income-led growth policy direction is necessary. "I suggest you to change your income-led growth policy into employment-led growth model while keeping your policy direction. For example, the employment rate will rise if the labor ministry provides weekly payments to employees," the professor said.
After gathering opinions of the veteran government officials, Moon said, "The conflicting design of progress versus conservatism and such outdated frames and binary thinking do not work today. I am doing my best to remove such frames, and I have made some achievement. But it isn't solid yet."
Meanwhile, Moon will make an appearance on the live KBS program entitled, "Special Talks for the 2nd Anniversary of Moon Jae-in's Inauguration: Ask the President (tentative title)" on May 9 to reveal his vision for the third year of his term.