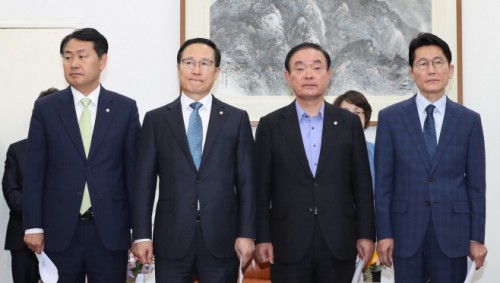 (From left) Floor leaders Rep. Kim Kwan-young of the Bareunmirae Party, Rep. Hong Young-pyo of the Democratic Party, Rep. Chang Byoung-wan of the Party for Democracy and Peace and Rep. Youn So-ha of the Justice Party hold a press briefing at the National Assembly on May 1, 2019/ Source: Yonhap
By AsiaToday reporters Lee Jang-won & Heo Go-woon
South Korean parties have continued their standoff over fast-tracking disputed political and judicial reform bills on Wednesday. The ruling Democratic Party (DP) and three minor opposition parties called on the main opposition Liberty Korea Party (LKP) to join negotiations on the pending bills. On the other hand, the conservative party designated the fast-track designation as a parliamentary coup, and said it will hold outdoor protests and sign-up campaigns.
Floor leaders Rep. Hong Young-pyo of the Democratic Party, Rep. Kim Kwan-young of the Bareunmirae Party, Rep. Chang Byoung-wan of the Party for Democracy and Peace and Rep. Youn So-ha of the Justice Party held a meeting at the National Assembly and announced an agreement on fast-track follow-up measures.
"We have failed to properly discuss the reform bills that most of the lawmakers of the four parties agree due to the Liberty Korea Party, which controls 38% of the seats in the cabinet," they said. "We urge the LKP to join negotiations on the extra budget bill and other bills related to public livelihood immediately."
"The National Assembly has an obligation to discuss any policies and bills if the people demand it. The four parties will continue to be open to hold discussions with the LKP."
"The fast-track process is not the end but the beginning of a legislative process," the representatives said. "We will consult with the LKP regarding the proposed bills so they are not handled this way at a plenary session."
However, there were intense criticisms within the ruling party against the LKP's move. Democratic Party spokesperson Lee Jae-jung criticized the main opposition party for stopping the DP's activities with outdoor protests, saying, "Struggle and have a violate debate at the national assembly." Lee said the LKP should not ignore the extra budget bill for people's livelihood.
In response, the LKP revealed its plan to stage protests outside to let people know the unfairness of fast-track designation and to criticize the Moon Jae-in administration's public welfare policy. Its move is seemingly aimed to refrain from criticism of causing the so-called "beastly parliament" and to criticize the Moon Jae-in administration at the same time.
"We will begin signature-collecting campaign that reflects the people's anger and seek a new type of struggle that is focused more on the public," said LKP Chairman Hwang Kyo-ahn.
"At a Cabinet meeting the previous day, the president was busy praising its administration by presenting stupid statistics," Hwang said. "The best way is to take care of the people's livelihoods and stage protests for the people."
On the ruling and minor opposition's call for a joint negotiation, LKP Floor Leader Na Kyung-won said the four parties are engaged in "cheap politics" and have excluded the main opposition from their under-the-table deals.