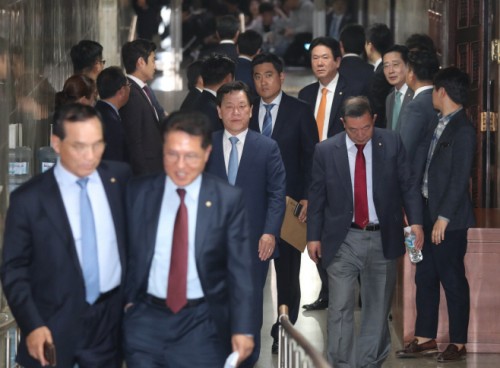 Lawmakers of the Bareunmirae Party leave the venue after a general assembly meeting on April 23, 2019./ Photographed by Song Eui-joo
By AsiaToday reporter Lim Yoo-jin
The ruling Democratic Party (DP) and three other parties, including the Bareunmirae Party (BMP), the Party of Democracy and Peace (PDP), and the Justice Party, agreed Monday to fast-track a set of bills to reform the election law, establish a new agency to investigate corruption by high-level government officials, and to enhance the police's authority to conduct probes. The main opposition Liberty Party of Korea (LKP) protested strongly against the four parties' move, calling it a "leftist coup".
The four parties, excluding the LKP, approved the agreement at their respective general meetings of lawmakers on Tuesday. The ruling DP approved the fast-track agreement unanimously. "The DP has not reached its goal since it had to negotiate with other parties. However, it is politically significant that the four parties ratified the agreement," said DP leader Rep. Lee Hae-chan ahead of the general meeting.
"I hope the LKP will start negotiations starting this afternoon," floor leader Rep. Hong Young-pyo said. "The DP will do its best to persuade the LKP so that arrangements on the election law, the civil servant corruption investigation law, and investigation authority of the police and prosecutors are handled smoothly."
The BMP narrowly approved the agreement by the margin of a single vote. "We finally decided to ratify the agreement," said the BMP floor leader Kim Kwang-young. "Based on the results of the ratification, special parliamentary panels on political and judiciary reforms will reflect the purpose of the agreement."
The PDP and the Justice Party passed the motion. However, PDP leader Chung Dong-young mentioned the need to supplement the side effects caused by reducing the number of local constituency seats, saying the number of seats that have been agreed by five party representatives last December should not be increased by more than 10 percent.
The Justice Party leader Lee Jeong-mi pointed out, "The LKP should remember that it was the party itself who has volunteered to be left out." The four parties will call a meeting of the Assembly's special committees on political and judiciary reform to designate related bills as fast-track bills.
On the other hand, the LKP vowed to protest strongly against the fast-tracking move. The conservative party plans to take a protest in Gwanghwamun in Seoul on April 27.