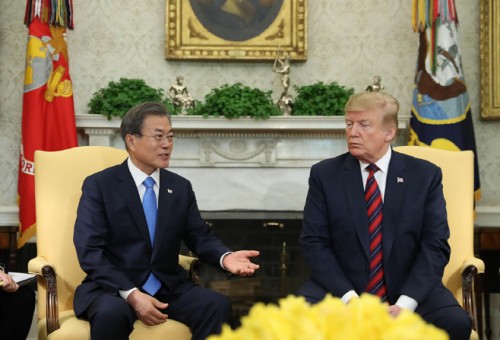 President Moon Jae-in and U.S. President Donald Trump meet at the White House on April 11./ Source: Cheong Wa Dae pool
By AsiaToday reporter Hong Sun-mi & Washington correspondent Ha Man-joo
Cheong Wa Dae affirmed CNN's report Sunday that President Moon Jae-in has messages from U.S. President Donald Trump to North Korean leader Kim Jong-un.
This suggests that the top-down dialogue between North Korea and the United States continues with Moon playing as a mediator. It also suggests that the South Korean government delivered a message to North Korea to resume talks soon.
For this reason, many are paying attention to see whether Moon could draw an inter-Korean summit and even a third U.S.-North Korea summit successively with Trump's message in his hand.
"President Moon Jae-in could deliver a message from U.S. President Donald Trump to North Korean leader Kim Jong-un if a new inter-Korean summit takes place," a Cheong Wa Dae official told reporters, when asked to comment on the CNN report.
Cheong Wa Dae did not elaborate regarding specifics on how the message was given to Moon and further relevant details. However, it made it clear that Moon has a message from Trump for the North Korean leader.
Citing multiple South Korean diplomatic sources, CNN reported Friday that Trump's message includes "things that matter to the current course of action, things that have to lead to something positive for the US-DPRK summit."
"Kim would be very, very curious about what President Moon would have to say after his meeting with the Trump administration. President Moon has been clear and simple. Small deal, big deal, good or bad, something has to happen, the process has to be sustainable," the sources said.
The message seems to have been delivered to Moon from Trump at a summit meeting in Washington on April 11.
During the South Korea-U.S. summit, Moon told Trump he will push for an inter-Korean summit soon. Trump asked Moon to brief him as early as possible on North Korea's latest position.
However, it is unclear whether an inter-Korean summit would be held soon despite Trump's message.
Kim criticized Moon in a speech to the Supreme People's Assembly on Friday that the South Korean president should not act as "officious mediator" and made it clear that he would only be interested in meeting Trump again if the United States changes its stance.
The argument between Pyongyang and Washington remains unresolved as the United States wants a big deal and sanctions in place on Pyongyang.