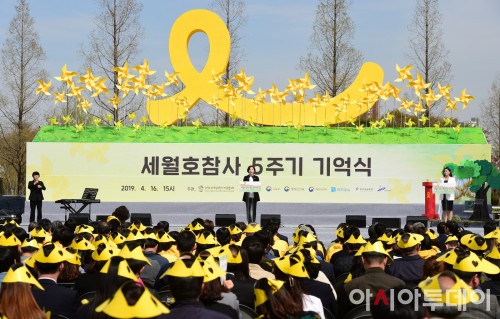 Marking the fifth anniversary of Sewol ferry sinking, a memorial service is held at a park in Ansan, where Danwon High School is located, on April 16, 2019. The photo shows Deputy Prime Minister and Minister of Education Yoo Eun-hae delivering a funeral oration at the ceremony./ Photographed by Song Eui-joo
AsiaToday reporter Kim In-hee
It has been five years since the sinking of the ferry Sewol on April 16, 2014. The Sewol tragedy caused a serious disaster-induced trauma over Korean society and changed perceptions on public safety. The government put a lot of effort into building a national disaster control tower in the wake of the disaster. In 2017, National Disaster and Safety Status Control Center was set up under the Ministry of Interior and Safety. When a series of massive wildfires broke out on eastern coastal cities in Gangwon Province earlier this month, the control center responded effectively by immediately running the Central Disaster and Safety Operations Center and dispatching fire trucks on a nationwide scale to successfully quench the fire.
Despite the government's efforts, insensitivity towards safety is still prevalent in our society under the name of 'convenience' and 'custom'. The country continues to see fatal accidents that expose lax safety standards and awareness despite the budget and efforts that have been put into national security since the sinking.
In fact, the Ministry of Employment and Labor has recently executed supervision of construction sites in preparation for spring thaw in North Jeolla Province for three weeks. As a result of inspecting the safety status of 14 construction sites with high risk of serious accidents, all 14 were found to have unsatisfactory results regarding safety.
Since the Sewol sinking, the number of dead and missing occurred due to maritime accidents has risen to 145 in 2017 from 100 in 2015. The total number of maritime accidents more than doubled to 2,671 last year from 1,330 in 2014. Among them, the number of maritime accidents caused by human error has risen to 1,701 last year from 839 in 2014. This suggests that although the awareness of safety has increased after the sinking, safety ignorance remains widespread in the country.
Safety ignorance in the public sector is even more serious. According to the results of winter emergency preparedness inspection announced by the safety ministry last month, indiscipline was found among public servants. For instance, some supervisors in public corporations, who were in charge of safety management, were absent from work when heavy snow warnings were issued. It is for this reason that the government has decided to handle safety ignorance of the public sector in terms of 'deliberate corruption' rather than 'simple carelessness'.
After all, new laws for harsher punishment are necessary to overcome safety ignorance.