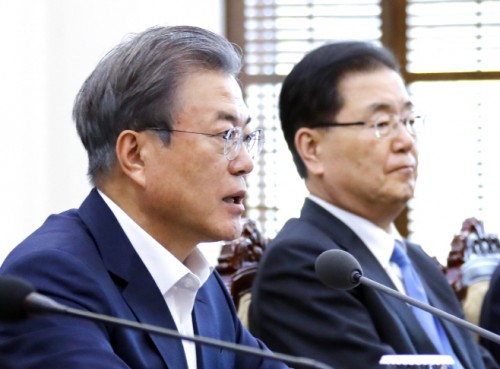 President Moon Jae-in speaks during a meeting with senior aides at Cheong Wa Dae on April 15, 2019./ Source: Yonhap News
By AsiaToday reporter Lee Seok-jong
"US President Donald Trump expressed that a trilateral summit would be possible if Chairman Kim Jong-un makes a decision," President Moon Jae-in said on Monday. The president also emphasized that now is the time to prepare and push for an inter-Korean summit.
As a result, the possibility of the fourth inter-Korean summit and a trilateral summit between the three leaders of South Korea, the DPRK and the United States has become a pressing matter. Through this, Moon's role for denuclearizing the Korean Peninsula and establishing permanent peace will be put to the test.
Moon made such comments during a meeting with senior aides at Cheong Wa Dae while explaining the outcome of his meeting with Trump in Washington on Thursday.
"President Trump expressed agreement and anticipation for an inter-Korean summit," Moon said. "Now it's time to actively prepare and push for an inter-Korean summit.
Moon noted that conditions were set for him and Kim to hold another summit as the DPRK leader showed his willingness to keep the dialogue momentum in his speech to the Supreme People's Assembly on Friday.
Moon called for Kim's determination regarding the fourth inter-Korean summit, saying, "As soon as North Korea is ready, I hope the two Koreas can sit down together without restrictions on time and venue to hold practical and detailed talks on ways to make progress beyond the two previous North Korea-US summits."
The president didn't mention when he would send a special envoy for the necessary groundwork. However, he is expected to announce a plan soon to send a special envoy to Pyongyang since he strongly expressed his willingness to hold the fourth inter-Korean summit.
"I will spare no effort to ensure that the upcoming inter-Korean summit becomes a stepping stone for an even greater opportunity and a more significant outcome," Moon said. "If the two Koreas and the United States gather their wisdom together with solid willingness for dialogue, nothing would be impossible."
"I will keep walking the path while fully carrying out the duty of completing peace as well as achieving prosperity and reunification," Moon said. "I will fulfill my responsibility to establish peace on the Korean peninsula, which includes creating a virtuous cycle between inter-Korean and DPRK-U.S. relations and strengthening the international society's support and cooperation."