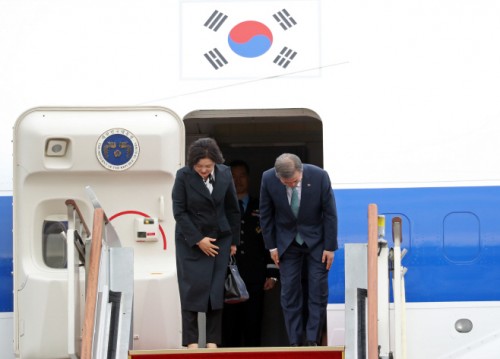 President Moon Jae-in and his wife Kim Jung-sook give a bow as they depart Seoul Air Base in Seongnam on April 10. Moon is scheduled to hold a summit with U.S. President Donald Trump at the White House on April 11 (local time)./ Source: Yonhap News
By AsiaToday reporter Lee Seok-jong
President Moon Jae-in will hold a summit with U.S. President Donald Trump at the White House on April 11 (local time). The summit will be held some 40 days after the second North Korea-U.S. summit in Hanoi. It remains to be seen whether the summit would be an opportunity to find concrete measures to revive the momentum for denuclearization dialogue between Washington and Pyongyang.
Every time the North Korea and the U.S. faced difficulties, Moon has been a facilitator and a mediator. The key point of the upcoming South Korea-U.S. summit is to see whether Moon can draw an agreement over denuclearization process, with the Americans seeking an all-in-one deal while the North Koreans favoring a phased step-by-step solution, and bring a new momentum for denuclearization talks. The South Korean government and Cheong Wa Dae are looking forward to "good enough deal" and "early harvest" cards.
South Korea and the United States are on the same page regarding the end state of North Korea's complete denuclearization and the need for a roadmap to achieve the goal. Therefore, Moon and Trump are expected to discuss a concrete roadmap for North Korea's complete denuclearization at the upcoming summit. Such discussion is expected to lead the dialogue under top-down format once again.
Moon is scheduled to return home on Friday after the summit with Trump. As Moon may either hold a one-point inter-Korean summit or send a special envoy to the North in order to share the outcome of the summit with North Korean leader Kim Jong-un, there are speculations that a North Korea-US summit could be held following a series of working-level dialogue between the North and the U.S.. "After the U.S.-North Korea summit was canceled in May last year, a one-point inter-Korean summit was held in Panmunjom and the U.S.-North Korea summit was held on June 12," a Cheong Wa Dae official said. "It is expected that we will also have a role this time around." The official also said the possibility of Trump's trip to South Korea would be discussed at the upcoming Trump-Moon summit.
Following the Moon-Trump summit on Thursday, there is a possibility that the fourth inter-Korean summit will be held around April 27, the first anniversary of the first inter-Korean summit, followed by a trilateral U.S.-South Korea-North Korea summit in Panmunjom during Trump's visit to South Korea sometime in May or June. President Moon Jae-in departed Seoul Air Base for Washington DC on Wednesday afternoon.