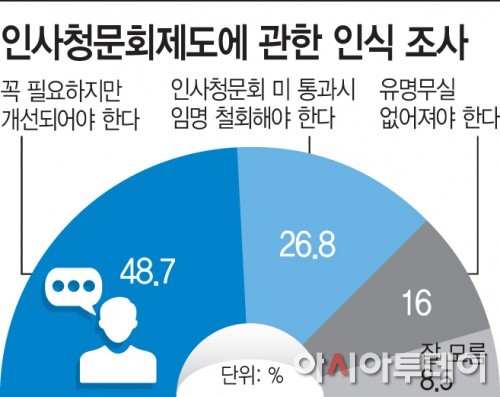 The result of a public opinion poll conducted by R&Search on behalf of AsiaToday on the first week of April./ Graphic: AsiaToday
By AsiaToday reporter Nam Ra-da
More than seven out of 10 South Koreans think the current confirmation hearing system should be either improved or strengthened, a new poll has revealed. There are growing voices calling for improvement of the current confirmation system, where candidates with lack of qualifications are nominated and then appointed following controversial confirmation hearings.
The survey by R&Search on behalf of AsiaToday, conducted March 29-31 among 1,055 voters nationwide, finds that 48.7 percent believe the confirmation hearing system is positively necessary, yet needs to be improved. The poll has a 95 percent confidence level with plus or minus three-percent error.
26.8 percent of respondents said the President should withdraw the nomination if the candidate does not pass the hearing. As a result, 75.5 percent said the current system should be either improved (48.7%) or strengthened (26.8%). 16 percent said the hearings should be eliminated since they are powerless.
In the poll, there was overwhelming opinion regardless of age, region, gender, or political affiliation that the confirmation hearing system should be improved. More than half of respondents in the conservative "TK region" comprising Daegu and North Gyeongsang Province, and "PK region" comprising Busan, Ulsan and South Gyeongsang Province, as well as Daejeon-Chungcheong-Sejong, and Gwangwon-Jeju regions said the hearing system should be improved. In capital Seoul, South Jeolla Province-Gwangju-North Jeolla Province, and Gyeonggi-Incheon regions, more than 40% called for improvement.
The parliamentary confirmation hearings for seven minister nominees for the phase 2 Cabinet of the Moon Jae-in administration ended last week. However, rival parties remain at odds over issuing confirmation hearing reports for the nominees. That's why there is a growing consensus that fundamental improvement of the hearing system itself is necessary.
"The President has pushed ahead with appointment of minister nominees who were not qualified for the job, which led to poor personnel verification," Bareunmirae Party chief Sohn Hak-kyu said on Monday. "The national confirmation hearings should have legal rights to be able to reject president's appointment of a minister nominee unless a confirmation hearing report is adopted."