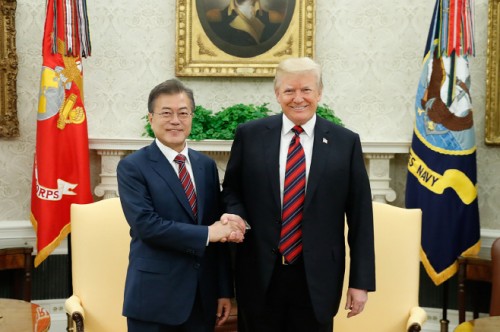 President Moon Jae-in and US President Donald Trump will hold a summit meeting in Washington on April 11.
By AsiaToday reporter Heo Go-woon
President Moon Jae-in and US President Donald Trump will hold a summit meeting in Washington on April 11. It will be their first summit following the failure of the Hanoi summit between the United States and North Korea.
The upcoming summit is expected to be an opportunity for the South Korean government to mediate between the United States and North Korea. The two countries were found to have strikingly different positions in the "big deal" document that Trump handed over to Kim Jong-un during their talks in Hanoi.
The big deal document, which was partly revealed on Saturday, called for "transferring North Korea's nuclear weapons and fissile material to the United States, and fully dismantling all of its nuclear facilities and ballistic missiles as well as its chemical and biological warfare program."
The document was meant to provide North Korea with a clear definition of what the United States meant by "complete, verifiable, irreversible denuclearization" since it called on North Korea to dismantle its nuclear program and to get through thorough verification process before providing diplomatic and economic support in reward. It was a proposal that North Korea was reluctant to do although North Koreans had always shown their commitment towards denuclearization.
Since the Hanoi summit, the South Korean government has been preparing ways to mediate nuclear talks between Washington and Pyongyang by sending diplomatic and security figures to Washington after nearly a month of analysis.
South Korean Foreign Minister Kang Kyung-wha met with her US counterpart Mike Pompeo in Washington D.C. on Friday, and Special Representative for Korean Peninsula Peace and Security Affairs Lee Do-hoon had a meeting with US State Department Special Representative for North Korea Stephen Biegun. After the meeting, Kang said Sunday that Seoul and Washington are on the same page in wanting to maintain the momentum of United States-North Korea talks.
On Saturday, Kim Hyun-jong, second deputy chief of the National Security Office (NSC) left for Washington D.C. aimed at shaping agenda for the upcoming S. Korea-U.S. summit. Defense Minister Jeong Kyeong-doo will meet with acting US Secretary of Defense Patrick Shanahan for the first time in Washington D.C. on Tuesday to discuss security on the Korean Peninsula.
Koh Yu-hwan, a professor at Dongguk University in Seoul, told AsiaToday on Sunday that North Korea would want the South Korean government to make a compromise with the United States since it is practically hard to accept the big deal suggested by the United States. "We should prepare a good enough deal that is acceptable to both the United States and North Korea."
North Korea has not shown its position on ways to resume the denuclearization dialogue. Experts predicted that North Korea would refine its message while watching carefully the outcome of the Seoul-Washington summit. There are speculations that North Korean leader Kim Jong-un may be about to pay a visit to Russia since Kim Chang-son, the de facto chief of staff and protocol officer of the North Korean leader, visited Russia from Mar. 19 to 25.