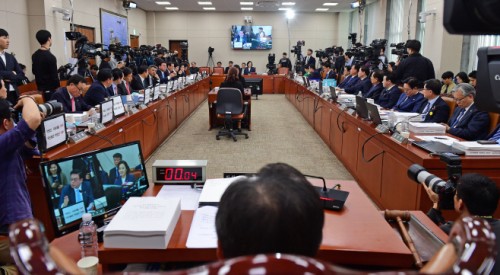 A confirmation hearing for Park Young-sun, a lawmaker who has been nominated for minister of SMEs, is being held at the National Assembly in Seoul on March 27, 2019./ Photographed by Song Eui-joo (songuijoo@)
By AsiaToday reporter Lim Yoo-jin
Rival parties clashed over their assessment of the recent confirmation hearings that wrapped up Wednesday for seven ministerial nominees named by President Moon Jae-in and Cheong Wa Dae in early March in a Cabinet reshuffle. The main opposition Liberty Korea Party (LKP) strongly opposed Thursday to adopt the confirmation hearing reports, citing a lack of qualifications and ethical lapses. It will be interesting to see whether Cheong Wa Dae and the ruling Democratic Party (DP) will enforce appointment. The Moon Jae-in administration is repeating the same vicious circle that the previous administrations failed to avoid. It began with nomination of poorly qualified candidates and was followed by unfavorable operation of confirmation hearings, which eventually led to presidential appointments.
Many citizens and lawmakers raise their voices to fundamentally change the powerless confirmation hearing system. They point out that the confirmation hearing law should be revised that allows the National Assembly to reject a minister's nomination. Many believe a law revision is needed to strengthen parliamentary verification authority.
Regarding the recent confirmation hearings, minor conservative Bareunmirae Party Floor Leader Kim Kwan-young said Thursday, "The National Assembly's veto right on poorly qualified nominees should be strengthened to prevent Cheong Wa Dae's poor verification and the president's one-way appointment."
"The biggest problem is that regardless of opposition from the public and the National Assembly due to serious problems of a nominee, the president can go ahead and appoint the nominee. The confirmation hearing law should be revised immediately to correct the problem," Kim said. "The Moon administration has appointed eight minister-level officials without parliamentary adopting hearing reports, which is worse than the Park Geun-hye administration. It shows that the current confirmation hearing system definitely requires a revision."
Experts point out the US-style confirmation hearings should be introduced. In the United States, the President nominates a candidate and confirmation by the Senate allows the President to formally appoint the candidate. Therefore, confirmation hearings have the comprehensive right of confirmation, which strengthens the binding power of parliament. The vast majority of confirmation hearings are open to the public, but a hearing may be closed if it involves personal information. During this process, the U.S. Office of Personnel Management and the FBI thoroughly screen unqualified nominees through multiple verifications.
However, Article 87 of the Constitution of the Republic of Korea stipulates that the members of the State Council shall be appointed by the President on the recommendation of the Prime Minister. It means the National Assembly cannot interfere. "In order to fundamentally correct the problems, we need to amend the constitution," Kim said. "By law, voting by the Standing Committee should be required for deputy prime ministerial and ministerial nominees to be confirmed. A symbolic and effective measure should be set up to block the appointment of poorly-qualified nominees."