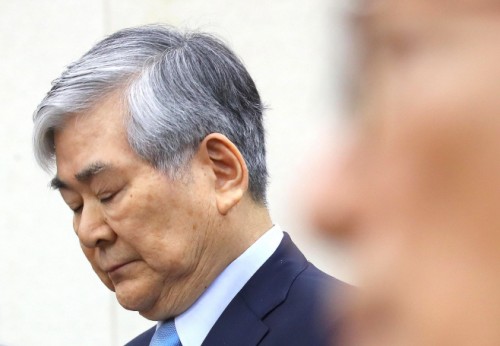 Hanjin Group chairman Cho Yang-ho
By AsiaToday reporter Moon Noo-ri
Hanjin Group chairman Cho Yang-ho has lost his board seat at Korean Air. It seems the National Pension Service's announcement the previous day to vote against Cho's reappointment had an impact on foreign investors as well as institutional and minority shareholders as well.
The chairman's board seat loss does not mean he has completely lost his control of the airline, since he maintains his position as an internal director of its parent Hanjin Kal Corp. However, Cho might lose his board seat again if Korean Air does not change according to shareholders' demands, such as maintaining transparency of governance. Cho's term as an internal director of Hanjin Kal expires in March 2020, and his son and the president of Korean Air, Cho Won-tae, could also fail to keep board seat as his term expires in 2021. Several management groups, including the Federation of Korean Industries (FKI), the Korea Chamber of Commerce and Industry (KCCI), and the Korea Employers Federation (KEF), expressed their regrets about Cho's removal as it put them in a state of emergency to protect their management rights.
Korean Air held a general shareholders' meeting on March 27, putting Cho's reappointment as an inside director and other matters to a vote. A total of 64.1 percent of shareholders voted for him and 35.9 percent voted against him. Cho needed support from at least two thirds of the shareholders to retain his seat on the board of Korean Air.
Currently, Cho controls 33.35 percent of the shares of Korean Air, including the stakes held by people and organizations with special ties with him. The National Pension Service (NPS) is the airline's second biggest shareholder with a 11.56 percent stake. Foreign investors own a 20.5 percent stake and other institutional and minority shareholders hold 55.09 percent. It seems the NPS played a key role by standing against Cho's reappointment. As a result, Cho lost management control of the carrier 20 years after he became its CEO following his father, the late Hanjin Group chairman Cho Joong-hoon, in 1999.
Earlier, political community and civic groups including the People's Solidarity for Participatory Democracy (PSPD) and Lawyers for a Democratic Society (also known as "MINBYUL") have been opposing the re-election of Cho. In particular, the PSPD and MINBYUL released to the media a proxy statement of voting rights last Friday and urged institutional investors to abstain if it is hard for them to vote for opposition. Proxy advisers ISS, Sustinvest, and the Center for Good Corporate Governance advised shareholders to object to Cho's reappointment.