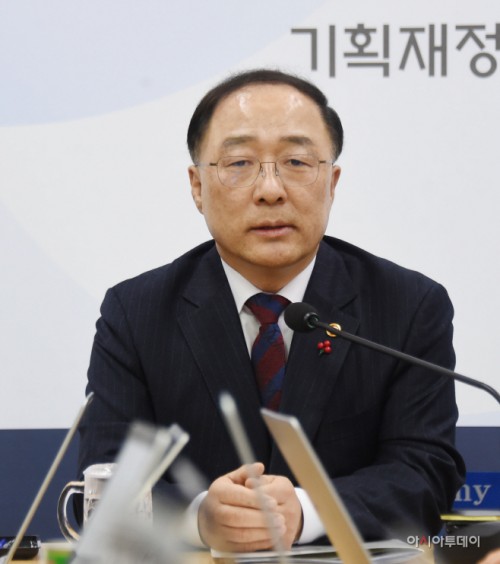 Economy and Finance Minister Hong Nam-ki/ Source: The Ministry of Economy and Finance
By AsiaToday reporter Ahn Jong-ho
South Korea's budget for 2020 will be focused on reviving the economy. In addition, the government plans to strengthen the social safety net and improve its redistribution of income policy in order to stabilize the livelihoods of low-income groups.
The Cabinet on Tuesday approved the compilation guidelines for the 2020 state budget and fund operation plan in a meeting in Seoul presided over by Economy and Finance Minister Hong Nam-ki.
The government has selected the "economic revitalization" as its main task of budget formulation next year.
Its decision to focus on revitalizing the local economy and maintaining growth comes amid rising uncertainties in the global economy and falling local exports. To this end, the government plans to push for policies that boost the competitiveness of key industries and expand exports.
Expanding the social safety net to create "a society that makes you feel warm" will be another focus of budget formulation. It plans to support people in low-income brackets increase their base income.
The government also plans to increase spending towards research and development in key industries, such as the semiconductor and automobile industries, and actively support talents cultivation and business restructuring.
In particular, it plans to encourage innovative growth through smart factories and deregulation. Funds will be set aside for development of future technologies, including big data, artificial intelligence, the hydrogen economy, and 5G network services.
As financial demand is expected to rise with tax collections expected to slow, spending will be adjusted as well. The government plans to revise and cut spending of government departments by more than 10 percent on major policy and new business projects.
Based on the latest guidelines, government ministries are required to submit their budget requests to the Finance Ministry by May 31. The Ministry of Economy and Finance is scheduled to present the government budget proposal to the National Assembly by September 3 for approval.
The state budget is likely to surpass 500 trillion won next year. In the government's fiscal plan for 2018-2020 submitted to the National Assembly in August 2018, next year's spending was proposed at 504.6 trillion won.