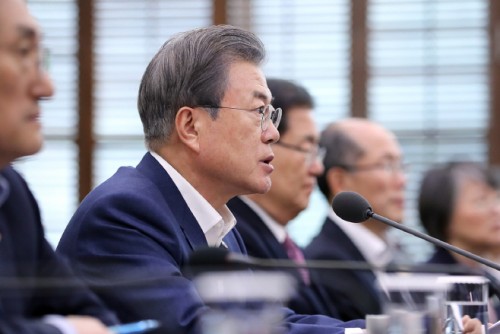 President Moon Jae-in talks during a meeting with his senior aides at the presidential Cheong Wa Dae in Seoul, March 25, 2019./ Source: Cheong Wa Dae
By AsiaToday reporters Hong Sun-mi & Ahn Jong-ho
President Moon Jae-in urged the National Assembly on Monday to swiftly legislate work- and economy-related bills that rival political parties have been wrangling over. In particular, the president asked the parties to speed up the process of handling long-pending issues, including one on expanding the application period of the flexible work hour system and one on revising the minimum wage system.
The business community also believes that swift legislation of major pending economy-related bills, including the Framework Act on Service Industry Development, Social Economy Framework Act, Fair Trade Act, and the Labor Standards Act.
Concerns are growing that if these bills continue to remain unhandled, uncertainties in the industrial scenes and the market would grow, which would eventually keep the government and even enterprises make economic achievements.
"Fulfilling its duty as a legislative body is to keep the promise with the people," the president said at the start of a weekly meeting with senior presidential secretaries and advisers at the presidential office Cheong Wa Dae. "I ask (the parties) to swiftly act on the bills that are critical to the livelihood of the people and the national economy."
"The bill on expanding flexible working hours is a good example," Moon said. "The expansion of the duration is a very meaningful case that came with concessions and compromises after long, painful discussions between labor, management and the government. It is the duty of the national assembly to give life to the achievement."
Moon criticized the lawmakers, who are concerned of the Korean economy, are actually coy about handling bills directly related to the people's livelihood and the economy.
"May lawmakers expressed their concerns about the national economy in the last week's government questioning session," the president said. "I hope the national assembly too will help revitalize the economy through legislation."
In fact, it seems hard for the key labor issues, including the expansion of the duration of flexible working hours and revision of the minimum wage system, to be approved in March due to clashes between the ruling and opposition parties.
Last month, the national tripartite commission of labor, management and government agreed to expand the application period for the flexible work hour system, which allows companies to adjust working hours of employees in a lump-sum manner, to six months from the current three months. However, there is a great difference between rival parties since the main opposition Liberty Korea Party argues that it should be extended to one year.
Regarding the revision of the minimum wage system, the ruling party is pushing for dividing the minimum wage commission into two sub-bodies while the opposition party is demanding that the minimum wage rate should be differentiated depending on the type, region and size of businesses.
The president also touched on bills related to fostering new industries for innovative growth, supporting the self-employed and small business owners, strengthening the safety of media personnel, and ending violence in sports.