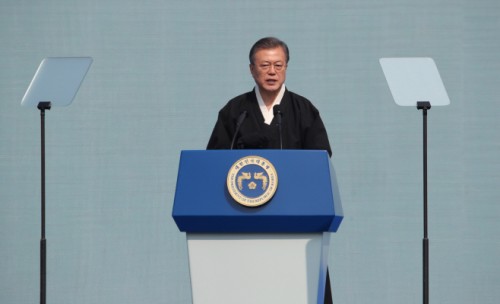 President Moon Jae-in delivers a speech during a ceremony to mark the 100th anniversary of the March First Independence Movement Day in Seoul on March 1, 2019. / Source: Yonhap News
By AsiaToday reporters Hong Sun-mi & Ha Man-joo
As a war of nerves between the United States and North Korea is intensifying after the breakdown of the Trump-Kim summit in Hanoi, President Moon Jae-in is scratching his head to bring both countries back to the negotiation table.
The U.S. Treasury Department announced Friday that additional sanctions would be added on North Korea. On the following day, North Korea delivered a strong message by unilaterally withdrawing from a joint liaison office with the South.
However, since U.S. President Donald Trump immediately ordered to roll back newly imposed North Korea sanctions and the North did not give any details on why they decided to pull out, observers claim that the two countries appear to want to continue their denuclearization talks.
Although their move to avoid breaking the dialogue table suggests the nuclear stalemate has entered a new phase. At the same time, it means Moon's role as a mediator has become even more important.
Experts say that Cheong Wa Dae is recently freshening up the mood behind the scenes in order to resume Pyongyang-Washington negotiations, although a key official of Cheong Wa Dae said Sunday that they are "carefully looking at the recent situation."
For instance, former CIA Korea Mission Center chief Andrew Kim, who played a key role behind the curtain in Washington-Pyongyang negotiations, visited Cheong Wa Dae on Thursday and met with National Security Office chief Chung Eui-yong.
Cheong Wa Dae denied recent rumors that Trump will make a state visit to South Korea in May and that National Security Office Deputy Director Kim Hyun-chong will trip to the United States this week. Yet, some observers say they could be one of Cheong Wa Dae's cards that might have been mentioned in the process of creating an atmosphere to resume U.S.-North Korea talks.
President Moon has his job to continue his conversation with Pyongyang while cooperating with Washington.
Since North Korean leader Kim Jong-un is expected to reveal his position on denuclearization negotiations soon or late, experts point out it is urgent to keep North Korea on track of dialogue through meetings between the leaders of two Koreas.
It means it is necessary to make a decision that he did during the second inter-Korean summit held at Panmunjom on May 26 last year.
"If Chairman Kim Jong-un announces to stop negotiations by any chance, it will obviously take a considerable amount of time to resume talks. Therefore, it is necessary to persuade North Korea through inter-Korean channels. Among them, a summit between two Koreas is the most effective channel," said Cho Sung-ryul, a senior researcher at the Institute for National Security Strategy.
Some believe that Moon's role as a mediator in handling both inter-Korean and North Korea-US relations will never be easy.
"In reality, Mr. Moon's hands are tied unless the United States and North Korea reach an agreement on denuclearizing the North and Washington helps to ease sanctions. His mediator's role has run into a wall since the breakdown of the Hanoi meeting between Mr. Trump and Mr. Kim," the New York Times said on Saturday.