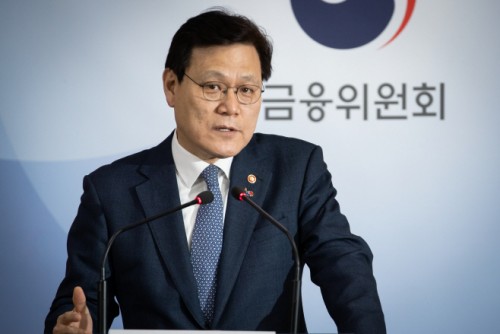 Financial Services Commission (FSC) Chairman Choi Jong-ku/ Source: Financial Services Commission
By AsiaToday reporter Lee Seon-yeong
The government will provide innovative firms and small- and medium-sized enterprises (SMEs) loans worth 100 trillion won (US$88.6 billion) over the next three years, through the reform of credit rating procedures. From now on, innovative firms will be able to secure loans by using their intellectual property, production facilities and technology capabilities as collateral.
The government on Thursday introduced its vision for financial innovation in a meeting held at Industrial Bank of Korea's head office in Seoul with President Moon Jae-in, Minister of Economy and Finance Hong Nam-ki and Financial Services Commission (FSC) Chairman Choi Jong-ku in attendance.
The government unveiled a set of measures customized for three sectors: loans, capital markets, and policy funds.
In the field of loans, the government decided to change the corporate credit rating system, which used to evaluate firms by their real estate and past accomplishments. Unlike in the past, a company's competitiveness and commercial transaction related information will be evaluated as well. The government aims to build an evaluation infrastructure for future growth and profitability by 2020 and build a comprehensive repayment capability evaluation system by 2021.
In an effort to supply capital to innovative firms through capital markets, KOSDAQ and KONEX markets will be revitalized and capital market tax reform will be carried out. The government plans to expand the budget of its growth support fund to 15 trillion won (US$13.2 billion) from 8 trillion won (US$7.1 billion).
The government will also make it easier for firms in biotechnology and other innovative sectors to get listed on the KOSDAQ, by applying new standards that reflect their source technology and funding potential. It expects the number of companies related to the Fourth Industrial Revolution and biotechnology listed on the KOSDAQ will be increased to 80 within the next three years, from the 38 over the past three years.
The tax rate for stock trading will be cut as well. The government has decided to lower the trading tax for stocks listed in major KOSPI and junior KOSDAQ markets by 0.05 of a percentage point to 0.10 percent and 0.25 percent, respectively, while lowering the tax for KONEX market by 0.2 of a percentage point to 0.1 percent.
The government will provide 72 trillion won (US$63.8 billion) through policy financing. 12 trillion won (US$10.6 billion) of policy funds will be invested in extending facilities and conducting R&D for SMEs of key industries while 60 trillion won (US$53.2 billion) will be invested in promising service sectors, including healthcare and contents. Based on this plan, the government expects to create 170,000 jobs.
"I look forward to seeing the finance play a role of an umbrella that protects you from rain and is even able to discover sunshine behind the clouds," President Moon Jae-in said.