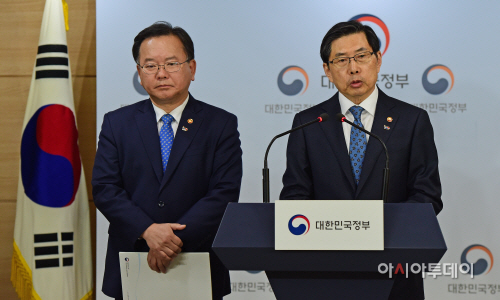 Interior Minister Kim Boo-kyum and Justice Minister Park Sang-ki speak to the press during a briefing in Seoul on March 19, 2019./ Photographed by Song Eui-joo
By AsiaToday reporters Heo Gyeong-joon & Kim Ji-hwan
As President Moon Jae-in ordered Monday a thorough investigation into the Burning Sun scandal and a re-examination of allegations involving former vice justice minister Kim Hak-ui and late actress Jang Ja-yeon, Justice Minister Park Sang-ki and Interior Minister Kim Boo-kyum on Tuesday vowed to conduct thorough investigations into the three controversial sex-for-favor cases.
In a joint news conference in Seoul, Justice Minister Park Sang-ki announced plans to extend its special committee's investigation period by another two months until May in order to complete investigations into further suspicions.
"We will continue to review fresh allegations that have been surfaced so as to uncover the truth. If the allegations are found to be true, we plan to let the prosecution launch an investigation promptly," Minister Park said.
The justice minister made it clear that the ministry would separate parts for re-investigation from parts for fact-finding based on the results of the review. He said the ministry would launch a re-investigation if necessary.
"We are still thinking about how to reinvestigate the cases in detail," Park said. "In the past, it was not possible to get the facts straight and the debate led to the issue of past affairs. We won't let that happen again."
The problem is that investigations are being delayed because the reviewing committee does not have a right to investigate by force. Even if the cases are reinvestigated, there are still problems such as statute of limitations."
In this regard, Park said, "The committee will review the cases, and we will recommend conducting an investigation if it is necessary."
Interior Minister Kim Boo-kyum vowed to get to the bottom of the Burning Sun scandal by giving all efforts of the national police.
"As interior minister in charge of the national police, I will encourage the police to stake the fate of their organization on uncovering the truth and resolve allegations of collusion," Minister Kim said.
"If the collusive ties turn out to be true, my office will ensure every single person, regardless of their rank, will face severe punishment," Kim said. "The ministry will put all effort in probing all allegations that have surfaced."