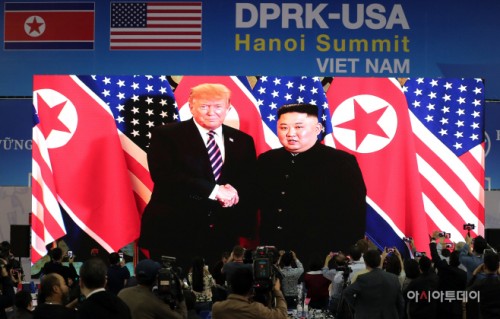 U.S. President Donald Trump and North Korean leader Kim Jong-un greet with a handshake and laughs at the beginning of their second summit on February 27 in Hanoi, Vietnam. / Photographed by Jung Jae-hoon
AsiaToday reporter Jo Jae-hyung
North Korea and the United States are making little progress in narrowing their gaps on denuclearization and sanctions relief, which led to the breakdown of the second Trump-Kim summit in Vietnam. In particular, North Korea has been spotted reassembling its key missile launch site at Dongchang-ri.
However, doors seem to be still open for talks since North Korean media outlets reaffirmed the country's commitment to complete denuclearization while the U.S. State Department mentioned the possibility of the third summit. The South Korean government needs to watch the situation carefully to keep both North Korea and the U.S. from intensifying the circumstances.
People are paying attention to how the Moon Jae-in government will play its role as a mediator and a facilitator to break NK-US stalemate.
Foreign Ministry Spokesperson Kim In-cheol told reporters on Tuesday that Seoul is concerned about the situation about the Dongchang-ri. "We hope that the North will make a choice, which will be helpful for all, through a wise judgement."
Vice Unification Minister Chun Hae-sung said it is necessary to monitor the North's movement at Dongchang-ri thoroughly, however it should not heighten tension or intensify the political situation. "As far as I know, the United States is keeping such stance while watching the situation carefully," Chun said. "North Korea continues to express its commitment to dialogue as well."
◇ North Korea wants "step-by-step process" while the U.S. wants the North to sign a one-shot big deal
In fact, North Korean media outlets, which have been silent since the Hanoi summit, have all mentioned "complete denuclearization" on Tuesday. "It is our firm position to establish new relations between the two countries in line with demands of the new century, build a lasting and solid peace regime on the Korean Peninsula and move toward complete denuclearization," said Uriminzokkiri, one of the North's propaganda websites. DPRK Today and Tongil Sinbo rated the second U.S.-N.K summit highly and mentioned that Kim and Trump promised to meet again as they bid farewell.
The articles suggest that Pyongyang would not drive negotiations to catastrophe through actual rocket launch. However, it seems North Korea's position is not officially finalized since state broadcaster Korea Central Television (KCTV) and state newspaper Rodong Sinmum have not revealed their positions.
In the meantime, Andrea Thompson, the U.S. Under Secretary of State for Arms Control and International Security, said on Monday that she thinks there will be a third summit between Trump and Kim. On the same day, Trump revealed that he is "100 percent committed to denuclearization of the peninsula," indicating that doors for U.S.-North Korea talks are still open.
However, U.S. special representative for North Korea Stephen Biegun said Monday that there was a fairly miserable record of achievement in U.S. efforts with the North. "We do have to have a complete declaration," he said. In contrast to his more flexible earlier remarks, he stressed a one-shot "big deal" to speed up the progress of complete disarmament of North Korea.