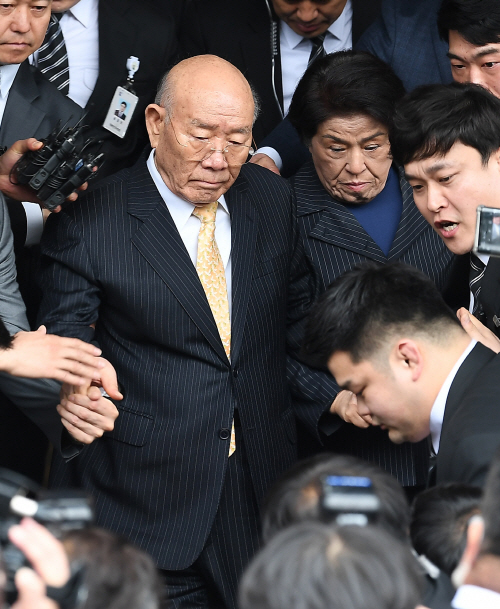 Former President Chun Doo-hwan, accompanied by his wife, Lee Soon-ja, comes out of the Gwangju District Court on Monday after a court hearing on a libel case involving his controversial memoirs on a 1980 democracy uprising in Gwangju. Chun was indicted without detention in May 2018 on charges that his memoirs defamed the late activist priest Cho Bi-oh./ Source: Yonhap
AsiaToday reporters Maeng Sung-kyu & Kim Ji-hwan
Former President Chun Doo-hwan on Monday attended a libel hearing at the Gwangju District Court to deny charges of defaming a deceased priest. It was Chun's first court appearance in 23 years after he stood in a criminal trial on treason and other charges in 1996. The hearing, which lasted about 75 minutes, led to a fierce battle between the former president and the prosecution over chopper attacks.
The former president appeared before Chief Judge Jang Dong-hyuk of the Gwangju District Court's eighth criminal division for charges that his memoir defamed late activist priest Cho Bi-oh.
Chun flatly denied the prosecution's charges, saying there were "no chopper attacks" during the May 18 Democracy Uprising in Gwangju. His side claimed there is insufficient evidence to back up Cho's claims about military helicopters shooting at civilians during the crackdown.
"The defamation of the dead is punishable by law only when the content is false. If the strafing did not take place in May 1980 as claimed by the late priest Cho Bi-oh, the charges are not accepted," Chun's defense said. "Besides, there is no official state record of the chopper attacks, and the memoir is written based on state records."
Chun's defense also submitted a statement suggesting changing the trial jurisdiction, saying that it was unfair for the trial to be held in Gwangju.
Prosecutors, on the other hand, refuted Chun's argument, saying the shooting from the helicopters is backed by solid evidence such as documents from the National Archives of Korea, investigations by the country's Defense Ministry as well as witness testimonies.
"According to the prosecution's investigation reports in 1996, there were testimonies by martial law officers that there were helicopter shootings," the prosecution said. "Despite the evidence, Chun seriously defamed the honor of the victim based on false information."
Chun was indicted without detention on defamation charges for calling the late Cho Bi-oh "a shameless liar" in his memoirs published in April 2017 after the priest's accounts of military helicopters shooting at civilians during the May 18 Democracy Uprising in Gwangju.
Meanwhile, Chun arrived at the court 2 hours early. When asked by a reporter about whether he ordered the chopper attacks during the crackdown, he angrily said, "What is this?"
Asked whether he was willing to apologize to the people of Gwangju, he did not respond.