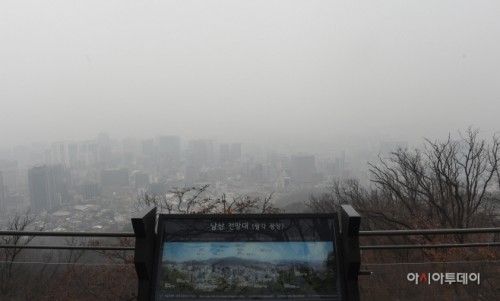 Thick fine dust continued to blanket most of the country for the sixth consecutive day on Wednesday. The image shows a view of Seoul from Namsan Tower on Wednesday./ Photographed by Jung Jae-hoon
By AsiaToday reporter Lee Seok-jong
President Moon Jae-in ordered his government Wednesday to work together with China to create artificial rain, draw up supplementary budgets, and close down aged power plants earlier than planned as the worst particulate matter pollution chocked most parts of the country for more than a week. The Ministry of Economy and Finance, the Ministry of Environment, and other government agencies expressed their willingness to take immediate action.
Ruling and opposition parties decided to deal with fine-dust-related bills, such as the Basic Act on Disasters and Safety Management which includes designating fine dust as a national disaster, at the upcoming plenary session on March 13. They also decided to use emergency fund to provide fine dusk masks and other necessary items to the vulnerable, and go over the revised supplementary budget. They also agreed to set up a delegation to visit China to strengthen diplomatic cooperation with China to deal with fine dust blown from China.
Moon instructed government officials to consult with the Chinese government and prepare a countermeasure to minimize the effect of fine dust blowing from China, focus on extracting full capacity by drawing up an extra budget if necessary to reduce fine dust, and actively review options to quickly close aged coal power plants.
On the matter of consulting with China, Moon said, "Both Korean and Chinese environment ministers have already agreed to cooperate on artificial rain-making technologies. Since China is much more advanced than South Korea in rain-making technologies, work with China to create artificial rain over the Yellow Sea." The president also ordered related government agencies to discuss with China ways to jointly implement emergency measures on reducing fine dust particles when levels are high, and to jointly set up a system for issuing fine dust pollution alerts.
Joo Sang-won, director-general at the National Institute of Meteorological Sciences, said the agency is in talks with China for inviting experts on artificial rain. "We will carry out as fast as we can," he said. In regards to securing extra budget, finance minister Hong Nam-ki said, "We will deal with fine dust primarily with the existing fund as much as possible. If it is not enough, we can review an extra budget compilation."
Regarding the early closure of aged coal power plants, vice energy minister Cheong Seung-il said, "We plan to actively review ways to accelerate the shutdown of six coal-powered plants considering electricity supply and demand." The Ministry of Land, Infrastructure and Transport said it would take intensive emergency measures on crowd facilities, such as subways and buses, as well as construction sites that emit fine dust.
Despite pan-government and parliamentary countermeasures, South Korea is expected to suffer deadly levels of fine dust for a while. As of 11 a.m. Wednesday, the fine dust concentration level skyrocketed to 185 micrograms per cubic meter in Seoul. The level of ultrafine particles smaller than 2.5 micrometers in the atmosphere was 131 micrograms per cubic meter in Seoul, 136 micrograms per cubic meter in Gyeonggi Province, and 115 in Incheon. The World Health Organization (WHO) classifies PM 2.5 particles as a first-degree carcinogen.