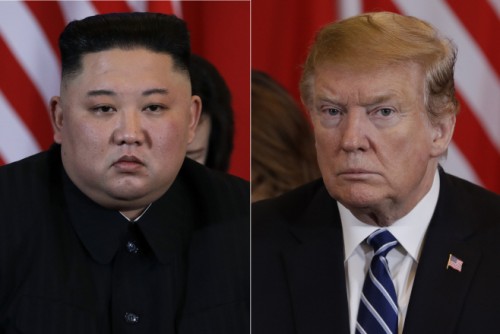 The Hanoi summit between the United States and North Korea ended abruptly without reaching a deal on Thursday as North Korean leader Kim Jong-un wanted all sanctions lifted while U.S. President Donald Trump rejected it./ Source: Hanoi AP=Yonhap News
By AsiaToday reporter Heo Go-woon
The Hanoi summit between the United States and North Korea ended abruptly without reaching a deal on Thursday as North Korean leader Kim Jong-un wanted all sanctions lifted while U.S. President Donald Trump rejected it. Chairman Kim failed to meet the U.S. demand of offering more denuclearization measures apart from dismantling its Yongbyon nuclear complex.
This would mean the achievement of complete denuclearization on the Korean Peninsula is reserved for another occasion, perhaps a third summit.
After finishing their summit, Kim left the Metropole Hotel in Hanoi at around 1:24 pm, at which point Trump also returned to his hotel. The summit ended without a planned lunch and a joint signing ceremony.
During a solo press conference, Trump said that he had a "really productive time" with Kim, but it "wasn't a good thing to be signing anything."
The two sides failed to reach a deal due to a standoff over easing sanctions against the North. "Basically, they wanted the sanctions lifted in their entirety, but we couldn't do that," Trump said at the press conference. He also said the North wasn't prepared to denuclearize the area that the U.S. wanted.
◇ Sanctions were deal breaker in the Hanoi summit
Initially, the leaders were expected to reach an agreement on denuclearization measures, lifting sanctions, declaring an end to the Korean War, and establishing a U.S. liaison office in Pyongyang. The U.S. even talked positively about an end-of-war declaration before the talks, and the prevailing forecast was that a U.S. liaison office would be established.
What North Korea wanted the most was sanctions to be lifted, but its only denuclearization measure to offer was dismantling the Yongbyon nuclear complex, which was not big enough to justify removing sanctions. Trump said that Kim's Yongbyon offer, "while very big, it wasn't enough to do what we were doing. We had to have more than that." The U.S. president said that when he raised the issue of another enrichment facility apart from Yongbyon, the North Korean delegation was "surprised" by what the U.S. knew.
U.S. Secretary of State Mike Pompeo said even without Yongbyon the North would still possess missiles, warheads and other elements of a nuclear program that were acceptable to Washington. There are also suspected hidden nuclear fuel production sites around the country. "We couldn't quite get there today," Pompeo said.
However, Trump said the atmosphere was "very good, very friendly" when he walked away from the talks. "This wasn't a walk away like you get up and walk out," he said. "There's warmth that we have and I hope that stays," he added, showing his intention to continue negotiations with Kim actively.
◇ Pompeo: "North Korea did not agree to offer a list of nuclear facilities and missile systems"
Trump is likely to continue his strategy of maintaining friendly relations with Kim and using sanctions as a bait to lead North Korea's denuclearization steps rather than being in a hurry and engaging in imperfect negotiations with the North. "Speed is not important to me. What is important is that we do the right deal," Trump said at the summit.
Trump and Kim arrived in Hanoi on Tuesday and began their summit with a dinner Wednesday in a seemingly amicable atmosphere. Kim pledged to "make every effort" for a "good result" in the talks. Trump called for denuclearization measure while stressing North Korea's economic potential before the talks.
After the press conference, Trump boarded Air Force One for the flight back to Washington. Kim will be paying an official friendly visit to Vietnam on March 1-2.
South Korean stocks and the currency plunged following the failure of the Trump-Kim summit Thursday.