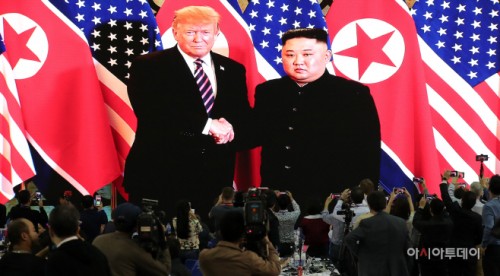 North Korean leader Kim Jong-un and US President Donald Trump shake hands before second summit in Hanoi, Vietnam, on Feb. 27./ Photographed by Jung Jae-hoon.
By AsiaToday reporter Heo Go-woon
US President Donald Trump and North Korean leader Kim Jong-un have begun their two-day summit in Hanoi on Wednesday. The two leaders, who met 260 days after landmark meeting in Singapore, were confident of "achieving great results."
The American and North Korean leaders exchanged warm greetings in front of a row of their countries' flags at Metropole Hotel in Hanoi, Vietnam. Trump expressed sense of friendliness by putting his hand on Kim's shoulder briefly.
Addressing reporters beside Trump, Kim said that there had been "more thought, effort and patience than at any time." "I am confident that we can achieve great results that every welcomes," Kim told Trump. "I will do my best to make that happen."
In response, Trump told Kim it was great to be with him. "Some people wanted to see it go quicker, but I was very happy with how we are doing," he said. "We had a very successful first summit," he added.
"I think that your country has tremendous economic potential. And I think you will have a tremendous future for your country," Trump told Kim. "I look forward to watching it happen and helping it to happen. We will help it to happen," he added.
The leaders had a dinner with aides after their one-on-one chat. Accompanying Trump was US Secretary of State Mike Pompeo and acting Chief of Staff Mick Mulvaney. Kim was joined by his top envoy Kim Yong-chol and Foreign Minister Ri Yong-ho.
The two leaders will hold a series of meetings at Metropole Hotel on Thursday. During the meetings, they are expected to agree on specific measures such as working towards denuclearization, establishing new US-North Korea relations, building a peace regime on the Korean Peninsula, and repatriating the remains of soldiers killed during the Korean War that were discussed at their first summit in Singapore last June.
They are scheduled to conclude the summit after signing the "Hanoi Declaration" that includes the results of the talks.