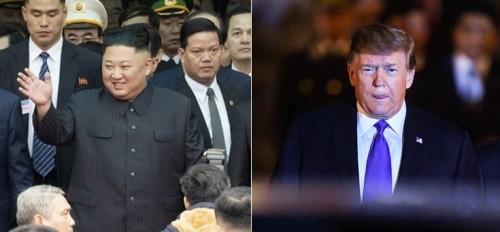 The second nuclear negotiations between US President Donald Trump and North Korean leader Kim Jong-in will begin with a dinner on Wednesday. The White House told reporters Monday that Trump would have a brief one-on-one greeting and social dinner with Chairman Kim on Wednesday./ Source: Yonhap News
By AsiaToday reporter Heo Go-woon & Vietnam correspondent Jeong Ri-na & Washington correspondent Ha Man-joo
The historic summit between North Korean leader Kim Jong-un and US President Donald Trump is set to begin. The two leaders, who arrived in Hanoi on Tuesday, are expected to issue the "Hanoi Declaration" that includes denuclearization measures and countermeasures after their second summit on Wednesday and Thursday.
Chairman Kim arrived by train at the Dong Dang Station in Vietnam's Lang Son province Tuesday morning after a long trip of some 4,500 kilometers that began in Pyongyang Saturday. He switched to a car to travel to the capital Hanoi. There have been speculations of a possible visit by the North Korean leader to a Samsung Electronics factory in Bac Ninh province. However, Kim headed straight to the capital.
Trump arrived in Hanoi on Tuesday evening. While heading to Hanoi, Trump tweeted: "Looking forward to a very productive Summit!" Before his departure, he said, "We will talk about something that, frankly, he never spoke to anybody about."
US Secretary of State Mike Pompeo, who arrived in Hanoi on Tuesday, hailed the second summit between Trump and Kim as an "important opportunity to make progress on Singapore Summit commitments." Pompeo is expected to meet with his North Korean counterpart, Kim Yong-chol, for last-minute preparations before the summit.
The two leaders will meet for dinner on Wednesday before their talks the next day. The White House said that Trump and Kim would greet each other one-on-one and then be accompanied by their aides for the meal.
◇ The result of the two-day negotiations may bring a breakthrough for US-North Korean and inter-Korean relations.
Kim and Trump will have a series of official meetings Thursday. Unlike their first summit in Singapore last year, which has the symbolic significance that the two leaders met for the first time in history, the two leaders vowed to achieve practical results at their Hanoi summit.
After the talks, they are expected to issue the historic "Hanoi Declaration", which includes North Korea's denuclearization steps such as destroying all the facilities in Yongbyon in exchange for an end-of-war declaration, sanctions relief, and liaison offices.
Recently, Cheong Wa Dae spokesman Kim Eui-kyeom recently hinted that Trump and Kim may reach an agreement to declare an end to the Korean War at their summit this week. Considering his remarks, a phrase related to an end-of-war declaration is likely to be included in the Hanoi Declaration if North Korea presents a card that can satisfy the United States, alongside its already promised shutdown of Yongbyon nuclear facilities.
Besides, if the two leaders agree to resume some inter-Korean economic projects, such as the Kaesong Industrial Zone and Mt. Kumgang tourism, and to ease sanctions against the North, the summit could become a turning point for US-North Korea and inter-Korean relations.