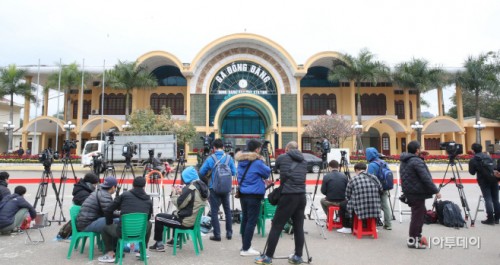 A group of reporters are on standby in front of the Dong Dang Station, near the border of China and Vietnam, on February 25. A train carrying North Korean leader Kim Jong-un is expected to stop the following day at the station on as he is on his way to Hanoi./ Photographed by Jung Jae-hoon
By AsiaToday reporters Lee Seok-jong & Heo Go-woon & Vietnam correspondent Jeong Ri-na
US President Donald Trump and North Korean leader Kim Jong-un are both expected to arrive in Hanoi on Tuesday for their historic second summit slated for Wednesday and Thursday. The South Korean presidential office on Monday mentioned the possibility of the two sides agreeing to declare the end of the Korean War in the summit.
"The possibility is open," presidential office spokesman Kim Eui-kyeom told a press briefing in Seoul when asked if an end-of-war declaration was on the summit agenda. "There is no way of knowing what kind of a declaration it might be, but it is possible North Korea and the United States would reach an agreement on the declaration of war's end at any degree."
"Ending the war is different from signing a peace treaty and it is fundamentally aimed at leading Pyongyang to denuclearize," the spokesman said. "There can be many ways to declare the war's end. It can be four-, three-, or two-way declaration and our government welcomes any form of war-ending declaration."
"We believe a declaration by the North and the U.S. should be enough if it comes to that," Kim said. The spokesman insisted that diplomatic relations have already established between South Korea and China, as well as the U.S. and China, and that the two Koreas made a de facto declaration of the war's end and signed a non-aggression pact through two rounds of inter-Korean summits last year and the September 19 military agreement.
Kim's remarks are meaningful as they come amid working-level negotiations between US Special Representative for North Korea Stephen Biegun and his North Korean counterpart Kim Hyok-chol in Hanoi to hammer out the details of so called the "Hanoi Declaration". South Korea's first mention of the Trump-Kim summit agenda suggests that there was a prior coordination with the United States.
As a result, many observers claim that a war-ending declaration will be made along with sanctions relief as corresponding US measures at the summit in response to North Korea's "some action" alongside its shutdown of Yongbyon nuclear facilities.
Besides, four-party talks involving Chinese President Xi Jinping and South Korean President Moon Jae-in may be carried out as Kim Jong-un called for multilateral negotiations on ending the armistice status and setting lasting peace during his New Year's speech.
The leaders of the United States and North Korea are expected to arrive in Hanoi on Tuesday, the eve of their summit.
Chairman Kim, who is on his way by train, is expected to arrive in the Vietnamese border city of Dong Dang in Lang Song province on early Tuesday. From there, he is expected to travel to Hanoi by car.
"US President Donald Trump is scheduled to land at Noi Bai International Aiport at 8:30 p.m. on Tuesday (local time)," the Vietnamese government announced Monday. According to the White House, Trump left Andrews Air Force Base outside Washington at 12:30 p.m. on Monday.