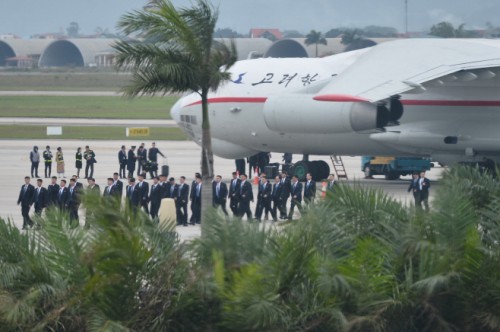 An Il-76MD aircraft carrying North Korean security officers landed at the Noi Bai Airport in Hanoi Sunday morning./ Source: Yonhap News
By AsiaToday reporter Heo Go-woon & Washington correspondent Ha Man-joo & Vietnam correspondent Jeong Ri-na
North Korean leader Kim Jong-un and US President Donald Trump are expected to arrive in Hanoi, Vietnam on Tuesday for this Wednesday and Thursday's summit.
While the North Korean leader is on his way by train, Trump is likely to set out Monday.
In Hanoi, North Korean Special Representative for US Affairs Kim Hyok-chol and his US counterpart Stephen Biegun held a third day of talks Sunday to prepare for the summit.
Chairman Kim left Pyongyang for a second DPRK-US summit meeting to be held in Hanoi, Vietnam on Feb. 27-28, Pyongyang's state-media Korean Central News Agency (KCNA) reported Sunday.
The KCNA introduced the details of the North Korean leader's departure, saying that he left Pyongyang Railway Station on Saturday. Other North Korean media outlets, including the Rodong Shinmun and the Korean Central Television, reported the news as well.
According to the reports, Kim was accompanied by senior officials, including his sister Kim Yo-jong, vice-chairman of the central committee of North Korea's Workers' Party Kim Yong-chol, Ri Su-yong, Kim Pyong-hae, and O Su-yong, foreign minister Ri Yong-ho, defense minister No Kwang-chol, and vice foreign minister Choe Son-hui.
But there was no mention of Kim's wife, Ri Sol-ju, in the list of those accompanying the leader. Events like a "first lady diplomacy" meeting with US First Lady Melania Trump are unlikely to happen during the summit.
Kim's train crossed into the Chinese border town of Dandong around 9:30 p.m. on Saturday. The train is widely expected to arrive in the Vietnamese border city of Dong Dang in Lang Song province on Tuesday. From there, Kim is expected to travel to Hanoi by car.
In Hanoi on Sunday morning, a North Korean cargo jet carrying nearly 100 North Korean security officials and vehicles arrived at the capital's airport.
As for Trump, the White House has not yet announced his travel schedule. However, considering that the US Department of State announced that US Secretary of State Mike Pompeo will be traveling to Hanoi from Tuesday to Thursday, Trump is likely to set out Monday.
Trump is expected to land at the capital's main Noi Bai International Airport on his private plane Air Force One. Along with Pompeo, US national security adviser John Bolton, who cancelled his trip to South Korea due to issues regarding Venezuela, is expected to be present at the summit.
Working-level officials from the two sides are continuing negotiations in Hanoi to hammer out the details of so called the "Hanoi declaration." The North Korean side, led by Kim Hyok-chol, was seen giving a thumbs-up sign to cameras waiting outside the meeting venue, suggesting positive speculations about the working-level talks. South Korean working-level officials, including Lee Do-hoon, the country's special representative for peace and security on the Korean Peninsula, are also reportedly in talks with the American side to discuss negotiation strategies.