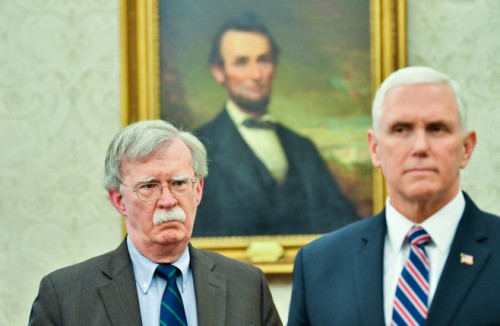 CNN reported Wednesday that US National Security Advisor John Bolton will travel to South Korea later this week for a round of consultations ahead of US-North Korea summit, citing two Trump administration officials./ Source: Washington D.C. UPI=Yonhap News
By AsiaToday Washington correspondent Ha Man-joo & reporter Jo Jae-hyung
US National Security Advisor John Bolton will travel to South Korea later this week ahead of the second US-North Korea summit to be held in Hanoi, Vietnam on Feb. 27-28.
The question of which agenda items Bolton would work on with Seoul and, by extension, Pyongyang, became a pressing matter ahead of the second Trump-Kim nuclear negotiations. While speculation persists that Trump and Kim may issue a statement involving an end-of-war declaration, peace agreement, sanctions relief, and inter-Korean economic cooperation projects at their Hanoi summit, many are trying to figure out whether Bolton's Seoul trip would be a good sign or rather a warning sign for the relations between the US, North Korea, and South Korea.
Citing two Trump administration officials, CNN reported Wednesday that Bolton will hold a "round of consultations" while in South Korea. "Bolton's trip comes as top US officials continue to hammer out the details of Trump's second summit with Kim," CNN reported. Bolton is set to hold a meeting with National Security Office chief Chung Eui-yong at Cheong Wa Dae.
Experts have mixed views about Bolton's Seoul trip. Some argue that his visit is aimed to pre-arrange the level of inter-Korean economic cooperation and sanctions relief with South Korea ahead of the Hanoi summit. Others view that Bolton will seek to adjust the pace of relaxing sanctions against the North since he has long been known as a hardliner on the North.
"Bolton is a security advisor," Yang Moo-jin, a professor at the University of North Korean Studies in Seoul, told AsiaToday in a phone interview on Thursday. "The United States is delivering a message aimed at encouraging South Korea and Japan for cooperation ahead of the US-North Korea summit," Yang said. "Bolton is known as a hardliner on the North, but his recent moves show that he is supporting Trump's will. He will not talk tough on the North."
"He is expected to discuss about parts that Washington and Seoul should cooperate, which will be included in a joint statement between Trump and Kim in Hanoi," said Moon Sung-mook, head of the Korea Research Institute's National Unification Strategy Center. "Chairman Kim has mentioned the issue of resuming the Kaesong Industrial Complex and tourism to Mt. Kumgang without any preconditions. So the two sides are expected to discuss the level of support that South Korea can provide, which might be included in the joint statement."
On the other hand, Shin Beom-chul, director at the Center for Security and Unification at the Asan Institute for Policy Studies, said, "The North Korean issue has been mainly handled by US Secretary of State Mike Pompeo. We should pay attention to the fact that Bolton is visiting Seoul instead of Pompeo. It is unlikely that a senior national security advisor will come to the country just to confirm the level of cooperation. He will ask South Korea not to be too eager about the sanctions relief issue without any concrete agreements between Washington and Pyongyang."
"I think I would like to see ultimately denuclearization of North Korea," Trump told reporters Tuesday after his phone conversation with President Moon Jae-in. He was confident at the pace of talks, saying, "I have no pressing time schedule." The next day, the US leader said the Hanoi summit is unlikely to be the last US-North Korea meeting, hinting at additional summits.