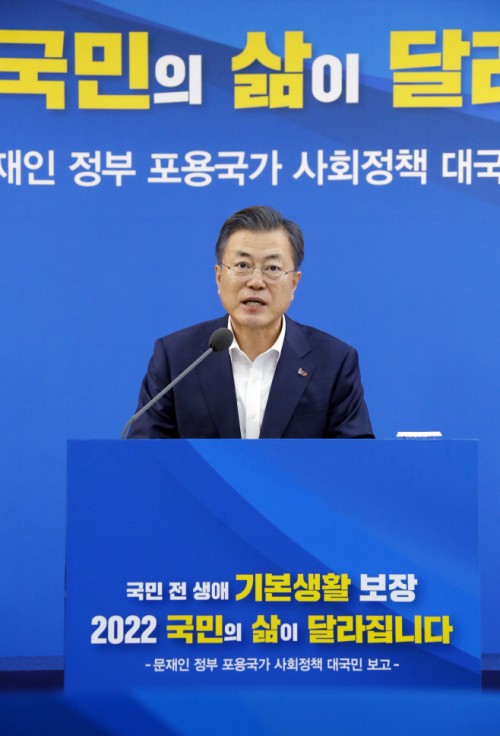 President Moon Jae-in speaks at the event highlighting the government's measures for creating an inclusive society in Seoul on Tuesday./ Source: Yonhap News
By AsiaToday reporter Kim Beom-joo
The government has declared this year as the first year of an innovative, inclusive nation. It will seek systematic welfare policy based on the policy results. Its purpose is to take responsibility for the people's life throughout their lifetime.
The government announced Tuesday the direction and main contents of its welfare policy for the establishment of an inclusive nation where everyone shares in the benefits of growth through inclusion. President Moon Jae-in presented the blueprint of an innovative inclusive nation at an event held in Seoul to announce the government's welfare measures and policy goals.
In particular, the government plans to provide support at all stages of life, from childcare to education, employment, rest and old age.
The plan includes building a social safety net so that no one is left out or suffered in the areas that people need to enjoy their happy daily life, such as income, environment, safety, health and housing.
The government has emphasized the importance of establishing an inclusive nation in the sense that the improvement of the quality of life leads to economic growth. In the same context, the government policy was focused on improving the working environment, such as switching temporary workers to regular workers and reducing working hours, as well as improving the people's livelihoods, including the establishment of all-day care system, increasing public rental housing, and introducing childcare allowances.
However, the government explained that the quality of life that the people feel has not improved much. Therefore, it plans to promote domestic demand and expand investment in people through inclusive social policies, such as strengthening the social safety net and easing disparities.
Last September, the government announced the '3 Major Visions and 9 Strategies'. Now it plans to implement concrete measures to develop a policy aimed at guaranteeing the safety and basic needs of all people.
In this regard, Moon said, "The goal of an inclusive nation starts from ensuring a basic standard of living. The plans announced today are aimed at providing support at all stages of life, from childcare to education, employment, and old age. All areas, from health and safety, income and environment to housing, are subjects of the plans."