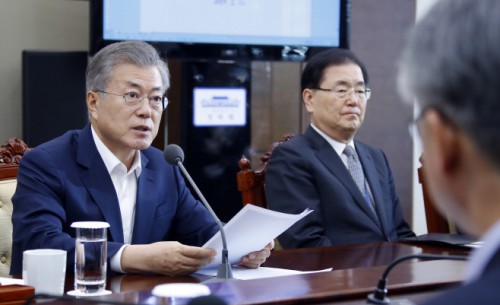 President Moon Jae-in speaks during a meeting with his senior aides at Cheong Wa Dae on Monday./ Source: Yonhap News
By AsiaToday reporter Hong Sun-mi
President Moon Jae-in said Monday the upcoming second summit between the United States and North Korea will become a "critical turning point" in advancing complete denuclearization of the Korean Peninsula, establishing new relations between Washington and Pyongyang and pushing a peace regime on the Peninsula both substantially and visibly.
"The first North Korea-U.S. summit was a historic event itself that was a clear milestone in world history. The upcoming second summit will take us a step further from here," Moon said in remarks during a meeting with his senior secretaries at Cheong Wa Dae.
Moon also pointed out that the peace process that started last year is making progress in bringing the Peninsula closer to peace and prosperity.
His remarks came after U.S. envoy Stephen Biegun gave Cheong Wa Dae briefings on the results of his Pyongyang trip last week, raising hopes that Washington and Pyongyang are narrowing key differences smoothly ahead of the upcoming summit.
"What's more important for us is that the meeting will be a crucial opportunity that will help develop inter-Korean relations," Moon said. "Our future depends on stable peace."
Moon also called for thorough preparation for the summit.
"Taking advantage of this opportunity, which is happening for the first time since the end of the Korean War, will grow into a future where the threat of war is completely removed and peace brings economic prosperity," the president said. "Beyond bringing a lasting peace with no threat of war, the two Koreas should open an era of economic prosperity together with peace creating new growth engines."
"Nothing can be achieved through luck. We have to be united and prepared to make that happen," Moon said.
"The reality is that there are doubts about whether the denuclearization and peace process will truly succeed," he said. "Not a few appear to even wish for the era of confrontation and conflict to continue."
"However, the reason the leaders of South and North Korea and the United States are walking that path without flinching is because they have strong faith in the direction that our history must move forward," he said. "I pay my respect to the two leaders who are crossing the sea of distrust of over 70 years with unprecedented diplomatic efforts."