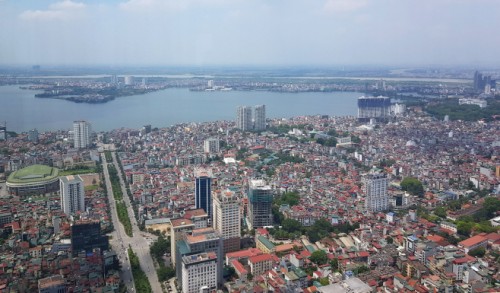 The second Trump-Kim summit will be held in Hanoi, Vietnam./ Source: Yonhap News
AsiaToday reporters Heo Go-woon & Jo Jae-hyung
After attending working-level talks with North Korean officials in Pyongyang on Feb. 6-8, U.S. Special Representative for North Korea Stephen Biegun headed back to Washington on Sunday. The United States is expected to prepare for follow-up negotiations with the North based on the outcome of the U.S. envoy's trip to Seoul and Pyongyang. Experts the two leaders are expected to reach a deal over North Korea's denuclearization measures in return for the United States' economic aid at the upcoming Washington-Pyongyang summit on February 27-28 in Hanoi, Vietnam.
During his stay on the Korean Peninsula last week, Biegun met with South Korean officials to fine-tune details before going to Pyongyang for three days of discussions about the upcoming Trump-Kim summit. After holding talks with the North, he was back in Seoul to meet National Security Office (NSO) chief Chung Eui-yong, Foreign Minister Kang Kyung-wha, Seoul's Special Representative for Korean Peninsula Peace and Security Affairs Lee Do-hoon, and senior Japanese Foreign Ministry official Kenji Kanasugi to give briefings on the results of his Pyongyang trip.
Although he did not provide further details, Biegun said the working-level talks with North Korea was "productive." Although "some hard work" still remains," he added, "I am confident that both sides stay committed, that we can make real progress."
U.S. President Donald Trump announced last Friday in a tweet that Hanoi will host his summit with Kim, and the U.S. State Department said in a statement that Biegun and his North Korean counterpart Kim Hyok-chol agreed to meet again ahead of the second summit.
"North Korea and the U.S. have agreed to continue negotiations in a third country in Asia during the week of February 17," Cheong Wa Dae spokesman Kim Eui-kyeom told reporters on Sunday. Kim also said that South Korean President Moon Jae-in and U.S. President Donald Trump will hold discussions over the phone soon about the summit. The presidential Cheong Wa Dae is reportedly preparing to make phone calls between the two leaders.
North Korea and the United States are expected to hold further talks involving North Korea's denuclearization measures and the U.S.' corresponding measures for the next two weeks ahead of the upcoming summit.
Regarding an agreement in the second summit, Sejong Institute researcher Chung Sung-jang said it is likely the two leaders would reach an agreement on the permanent dismantlement of North Korea's Yongbyon nuclear facility that the North had previously suggested. "The greatest concern is what other achievements would be. It could be the partial removal of the North's intercontinental ballistic missile program, denuclearization, and normalization of the U.S.-North Korea relations," he said.
It seems that what North Korea wants the most is sanctions relief and economic aid as countermeasures, and the United States is considering the extent of the relief or aid. Trump said that North Korea would become a great "Economic Powerhouse under the leadership of Kim Jong-un," and said, "North Korea will become a different kind of Rocket – an Economic one!"
"Regarding sanctions relief, North Korea may demand the U.S. to extend the supply limit of refined products. This United States' stance over this issue depends on what the North could suggest," Chung said. "The United States would not feel much pressure for the issues of liaison office establishment, a declaration of a formal end to the Korean War, and approval of inter-Korean cooperation projects," he added.