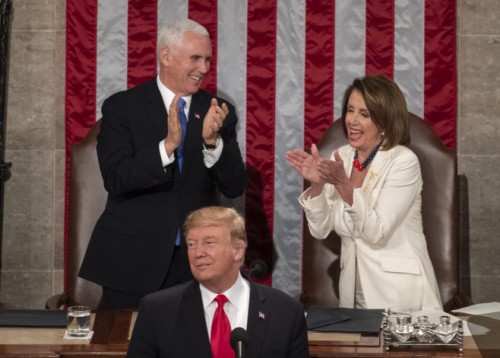 US President Donald Trump provided details of a second summit with North Korean leader Kim Jong-un, which will be held in Vietnam on February 27-28, during his annual State of the Union address in Washington on Tuesday./ Source: Washington D.C. UPI=Yonhap News
By AsiaToday Washington correspondent Ha Man-joo
US President Donald Trump and North Korean leader Kim Jong-un will hold a second summit on February 27-27 in Vietnam.
"Much work remains to be done but my relationship with Kim Jong-un is a good one," Trump said in his annual State of the Union address to Congress in Washington on Tuesday. "Chairman Kim and I will meet again on Feb. 27 and 28 in Vietnam."
"As part of a bold new diplomacy, we continue our historic push for peace on the Korean Peninsula," he said. "Our hostages have come home, nuclear testing has stopped, and there has not been a missile launch in more than 15 months. If I had not been elected president of the United States, we would right now, in my opinion, be in a major war with North Korea with potentially millions of people killed," he said.
Trump's remarks about North Korea were about a minute or two in his 82-minute address. He reaffirmed the US' policy of maximum pressure on the North. "North Korea's reckless pursuit of nuclear missiles could very soon threaten our homeland. We are waging a campaign of maximum pressure to prevent that from happening. Past experience has taught us that complacency and concessions only invite aggression and provocation. I will not repeat the mistakes of past administrations that got us into this dangerous position." He made such remarks a year ago when the North Korean nuclear threat was accelerating.
During this year's speech, Trump did not reveal where in the Southeast Asian nation the talks will be held. CNN reported that Washington and Pyongyang are discussing over the host city of the upcoming summit, citing a source familiar with the summit's planning. Hence, the city where the summit will take place will be will be discussed in working-level negotiations led by US Special Representative for North Korea Stephen Biegun and his counterpart Kim Hyok-chol, former North Korean ambassador to Spain. The US is said to prefer Da Nang due to security concerns while North Korea favors Hanoi given that they have an embassy there.
Trump and Kim will meet for the first time in eight months since last year's Singapore summit to have talks over North Korea's denuclearization measures and the U.S.' corresponding measures. In particular, attention is growing over whether North Korea would promise to dismantle all of its plutonium- and uranium-enrichment facilities while the United States would promise to formally end the Korean war, establish liaison offices with Pyongyang, and let halted inter-Koran economic projects, including the Kaesong Industrial Complex and tourism operations at Mount Kumgang.