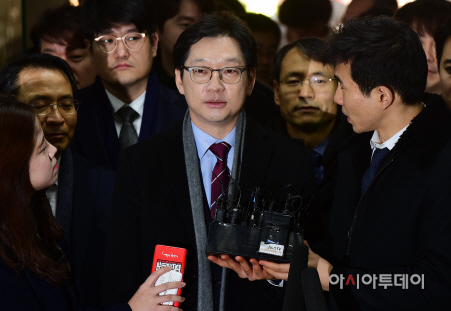 South Gyeongsang Province Governor Kim Kyoung-soo arrives at the Seoul Central District Court to attend the sentencing trial of an opinion rigging case in Seoul on Jan. 30, 2019./ Photographed by Song Eui-joo
By AsiaToday reporter Hwang Eui-joong
South Gyeongsang Province Governor Kim Kyoung-soo was taken into custody following a court ruling for his involvement in the online opinion-rigging conducted by a team of bloggers led by Kim Dong-won, better known by his online nickname Druking.
If the verdict is upheld by higher courts, Kim will lose his governorship in accordance with the election law.
The 32nd Criminal Division at Seoul Central District Court on Wednesday sentenced the 51-year-old governor to two years in prison.
The court also sentenced Kim to a 10-month jail term, suspended for two years, for violating the Public Official Election Law. Previously, an independent special counsel team led by Huh Ik-bum demanded five years in prison for the governor.
"Considering various evidences, the defendant had instructed Kim Dong-won to carry out the scheme and had been aware of the so-called King Crab," the court said. King Crab is the blogger's data manipulation software. "The recommendation of the Sendai consulate general job provided a decisive motive or incentive to Kim's crime, and it should be said that this act controlled Druking's comment manipulation."
"The defendant denied the charge despite the seriousness of the crime and the existing material evidence as well as testimonies of related parties," the court said. "However, we took account of the fact that the crime was committed to create a public sentiment in favor of his party, not for the sake of himself."
Governor Kim was indicted for allegedly manipulating public opinion in favor of by-then presidential candidate of the Democratic Party Moon Jae-in along with Druking's team since November 2016.
The court also found that the governor continued to carry out the illegal cyber operations with Druking for the June 13 local elections last year, and offered the head blogger a consulate-general at Consulate General of Korea in Sendai, Japan, in return.
Shortly after the judge handed down the verdict, the governor denied the charge and said he would "fight to the end."
Meanwhile, Druking was jailed for three and a half years on a similar charge in a separate trial earlier on Wednesday.