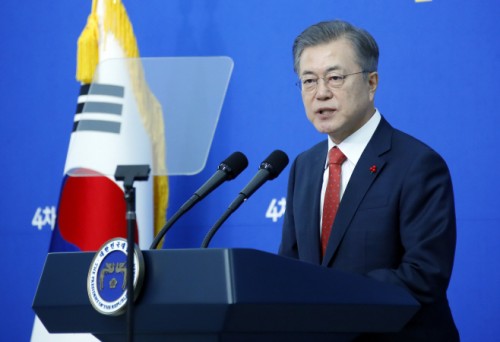 President Moon Jae-in speaks in a meeting with scientists and researchers in Daejeon on Jan. 24, 2019./ Source: Yonhap News
By AsiaToday reporter Hong Sun-mi
President Moon Jae-in is seeking to produce economic achievements by taking the middle ground that reflects the voices of the economic scene as he entered his third year in office.
In particular, Moon has indicated willingness to waive feasibility studies on regional social overhead capital (SOC) projects and slow down the pace of minimum wage hikes amid growing concerns over the national and regional economies.
It is also based on the judgment that the Moon administration could miss the "golden time" of revitalizing the economy by sticking to its existing philosophy and policies without reflecting the situation on the ground.
◇ Boosting both the economy and public sentiment by providing exemption from preliminary feasibility studies for regional SOC projects
President Moon Jae-in visited the city of Daejeon on Thursday as part of his administration's efforts to boost regional economies. He listed the city's infrastructure projects, including the long-desired tram line No. 2 construction project, and said, "We will actively consider providing an exemption from preliminary feasibility studies for these projects in Daejeon. There will be an announcement of results soon."
"It is worth 4 trillion won in total in Chungcheong region," Moon said. "We hope it will provide an opportunity for Daejeon and Chungcheong region to develop and leap forward."
Prime Minister Lee Nak-yon visited Cheongju on Friday and said, "We are promoting to exempt the Cheongju Aiport-Jecheon high speed railway project from the preliminary feasibility studies."
The administration is now providing such exemptions to boost the regional economies while controlling the speed of minimum wage hikes to encourage SMEs and self-employed workers.
◇ "Taking the middle ground for minimum wage hikes"
Earlier last month, Moon called for supplementary measures if necessary to address the unwanted effects of the sharp minimum wage hike.
Kim Soo-hyun, presidential chief of staff for policy, recently said, "I heard there are some unwanted effects of sharp minimum wage hike. We will work harder by finding a middle ground."
Some point out that Moon's economic policy stance has changed, but Cheong Wa Dae said, "There is no policy change."
◇ "Promoting balanced regional development"
According to the presidential office Cheong Wa Dae, several SOC projects in provincial areas have failed to pass screenings due to low demand despite the present government's efforts to put more emphasis on balanced development rather than economic efficiency. In order to boost balanced regional development, the government has decided to exempt regional projects from feasibility studies.
Regarding the moderation of hikes in the minimum wage, the Cheong Wa Dae said that the decision comes amid slowing economy.
"Every candidate had pledged to lift the minimum wage to 10,000 won an hour during the presidential election campaign. By then, the South Korean economy was in good shape. However, it was been influenced by the global economic slowdown," Kim said.
"We fully understand many voices coming from the fields regarding the minimum wage increase," Kim said. "We are carrying out card commission policy and more as supplementary measures."