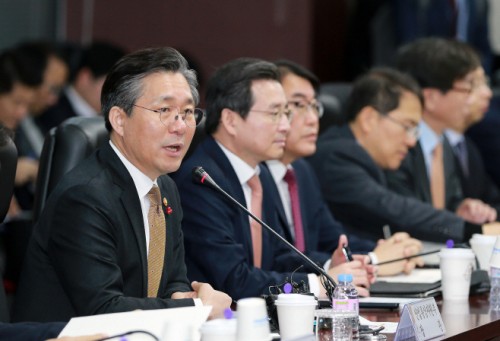 Sung Yun-mo, South Korea's minister of trade, industry and energy, speaks during a strategy meeting with trade-related organizations as well as key officials of Hyundai Motor Co., SK hynix, LG Chem Ltd., and more in Seoul on January 21, 2019./ Source: The Ministry of Trade, Industry and Energy.
By AsiaToday reporters Joo Sung-sik & Choi Won-young
South Korea's 83 month-long trade surplus march may be coming to an end. Exports are showing signs of decline due to 'semiconductor shock' while imports of raw materials are steadily increasing due to the government's energy transition policy, worsening trade balance.
The country's exports stood at US$25.7 billion in the first 20 days of January, down 14.6 percent from the same period a year earlier, according to data released by the Korea Customs Service (KCS) on Monday. The worst-ever decline was in semiconductors, which nosedived 28.8 percent, leading trade deficit of US$1.6 billion. Given the current pace, the country would end January with a trade deficit for the first time in 84 months since February 2012.
Amid growing concerns, the government immediately held a strategy meeting jointly with Korea International Trade Association (KITA) to discuss ways to overcome growing uncertainties surrounding the commercial environment, including US-China trade dispute and no-deal Brexit, as well as global market volatilities caused by deteriorating semiconductor market conditions and falling oil prices. The meeting was attended by trade-related top government officials as well as key officials of Hyundai Motor Co., SK hynix and LG Chem Ltd..
Although overshadowed by the country's record-hitting annul exports of US$600 billion, South Korea's trade balance stood at US$70.49 billion last year, a 26 percent decrease from US$95.2 billion in the previous year. This is because exports driven by semiconductors jumped US$31.78 billion, while energy-related imports increased by US$56.51 billion.
The problem is that the situation could become worse. Samsung Electronics' operating profits for the 4th quarter of 2018 were down 30 percent from the year before largely due to declining semiconductor prices. Several indexes, including the recent 1Q export leading indicator released by the state-run Korea Trade-Investment Promotion Agency (KOTRA), predicted that exports of semiconductors would face a significant drop in the first quarter.
On the other hand, the country's energy imports surged. The most notable increase of imports came from gas, which is more expensive than crude oil. Gas imports last year jumped 43.5 percent to US$26.9 billion as reduced nuclear and coal power generation was being replaced by LNG-based power generation. On the same day, the government reiterated the importance of reducing coal power plants and converting them to LNG-based power plants in order to reduce fine-dust levels.
During the strategy meeting, companies claimed the government should provide various supports, such as simplifying trade-related procedures, supporting local firms' efforts to tap into new markets, expanding free trade agreement (FTA) networks, and further cutting export tariffs. The government decided to come up with tailored countermeasures by arranging all the difficulties and solutions developed in the meeting.
In particular, the government decided to launch a public and private joint export supporting system as a preemptive move under the judgment that export slowdown could have a negative impact on the economy, production and employment. It plans to provide governmental support by launching an export response team and export promotion group.
"With the recent recognition of the severe export situation, our top priority will be vitalizing exports," said Industry Minister Sung Yun-mo. "We plan to set up short-term measures to revitalize the country's exports seeking to post combined exports of over US$600 billion for the second consecutive year in 2019, and long-term measures to remain competitive in the global market."