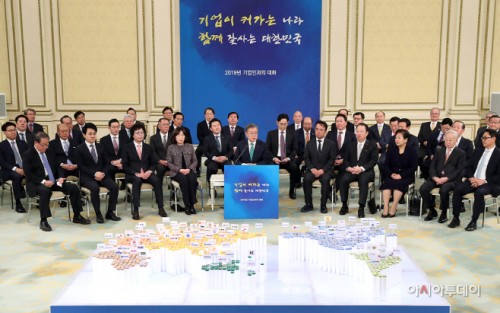 President Moon Jae-in speaks in a meeting with top business leaders held at the presidential office Cheong Wa Dae in Seoul on Jan. 15./ Source: Cheong Wa Dae
By AsiaToday reporter Lee Seok-jong
President Moon Jae-in called on business leaders Tuesday to "pay extra attention on the job creation issue and spearhead efforts to create new jobs."
"I know that many companies are planning major investment this year. I will launch an exclusive support team within the government for swift implementation," the president said.
In a special meeting at the presidential office Cheong Wa Dae attended by nearly 130 top business leaders, including vice chairman Lee Jae-yong of Samsung Electronics Co., President Moon Jae-in focused on two things, employment and investment.
Moon's remark represents his strong willingness to promote employment and investment to revitalize the economy.
"Employment and investment are the foundation for the growth of a company and its efforts to secure a future growth engine, while at the same time they are a way to contribute to the national economy and the people's livelihood," the president said.
"Creating quality jobs is the most urgent issue facing our economy," Moon said.
"Companies with more than 300 employees have the jobs most preferred by young people. The top 30 conglomerate groups have steadily increased their employment over the past five years while companies with more than 300 employees increased their employment by about 50,000, accounting for nearly half of new jobs last year."
In addition, the president said, "Creating an environment where companies can leap forward is our government's goal this year."
"The competitiveness of companies and quality jobs are eventually the success of investment. I ask you to continue making efforts to actively excavate businesses and increase your investment," Moon said.
However, Moon pointed out, "Large companies with more than 300 employees invest nearly 85 percent of the country's facility investment, and major companies have invested steadily in upgrading their core industries and new industries. However, I am disappointed that their facility investment has been on decline since the second quarter of last year."
The meeting was designed to help the participants hold frank discussions on challenges businesses face. During the meeting, business leaders' suggestions focused on regulation reforms.
SK Group Chairman Chey Tae-won said that driving the innovative growth requires a rational solution to tolerate failures, solve cost problems, and secure manpower.