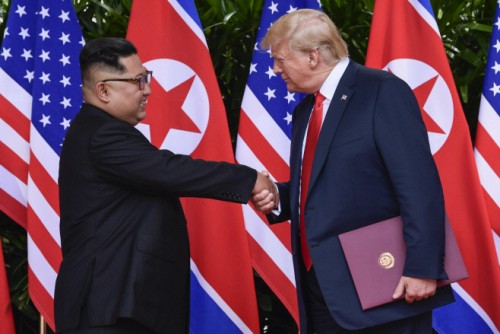 North Korean leader Kim Jong-un and U.S. President Donald Trump shake hands at the conclusion of their meetings at the Capella resort on Sentosa Island on June 12, 2018 in Singapore./ Source: Singapore AP=Yonhap News
By AsiaToday reporter Heo Go-woon
The United States and North Korea are fine-tuning the details of a second summit between U.S. President Donald Trump and North Korean leader Kim Jong-un. Some experts say the two countries are expected to reach an agreement on the exchange of North Korea's removal of intercontinental ballistic missiles (ICBM) and the resumption of the Gaesong Industrial Complex.
Asked when the two leaders will hold their summit, U.S. Secretary of State Mike Pompeo said in an interview with CBS on Sunday (Jan. 13) that "details" are being worked out.
His remark suggests that high-level talks between the U.S. and the North will be followed soon to discuss details about the venue and date for the second Trump-Kim summit.
The talks are expected take place after Jan. 15, when Pompeo returns home from a trip to the Middle East.
"The United States seems to be waiting for North Korea's response after suggesting holding the high-level talks," said Shin Beom-chul, senior director of the research division at Asan Institute for Policy Studies. "The summit is expected to take place about four weeks after the high-level talks."
Many diplomats believe that "small deals" will be reached first, since it is hard to make a comprehensive agreement between Washington and Pyongyang.
The United States may suggest sanctions exemptions to resume operation of the Gaesong Industrial Complex and Mount Geumgang tours as a possible corresponding measure in return for North's removal of its ICBMs.
This is in line with President Moon Jae-in's "trust-building first, nuclear declaration afterwards" roadmap for the U.S.-North summit mentioned in New Year's press conference.
"It seems the United States is taking a little more flexible stance to bring North Korea back to the dialogue table," Shin said.
"The United States places an emphasis on nonproliferation as a rule. It seems Kim Jong-un's statement in his New Year speech that his regime 'would not make nuclear weapons any longer' served as a momentum to change Washington's stance," said Cho Sung-ryul, a former senior research fellow for the Institute for National Security Strategy. "It can be seen as a nuclear freeze."
Alongside small deals of demolishing ICBMs and resuming Gaesong Industrial Complex, Washington and Pyongyang are expected to try exchanging various cards, such as closing or disabling Yongbyon nuclear facilities, reporting and verifying list of nuclear test sites, and easing and lifting sanctions against the North, proceeding with step-by-step, simultaneous denuclearization.
The venue of the next Kim-Trump meeting is likely to be Vietnam. It's because Vietnam has diplomatic relations with both the United States and North Korea, and both countries maintain embassies in Vietnam. It also has the symbolic significance of being a country that normalized its relations with the United States following the end of the Vietnam War, and that even achieved economic growth.