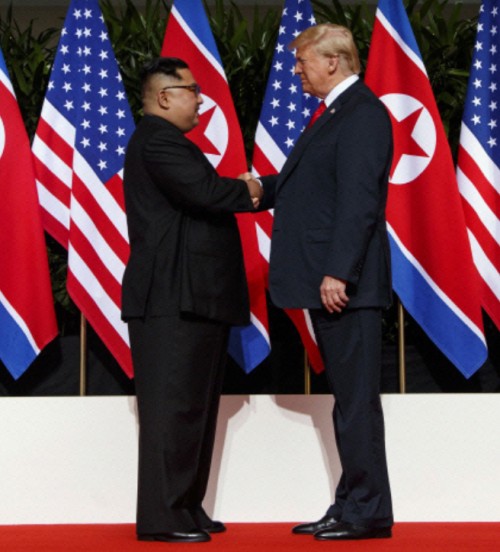 Vietnam is emerging as front-runner to host a second summit between U.S. President Donald Trump and North Korean leader Kim Jong-un. The photo shows U.S. President Donald Trump shaking hands with North Korean leader Kim Jong Un, opening a historic summit at the Capella Hotel on Sentosa Island in Singapore on June 12, 2018.
By AsiaToday Washington correspondent Ha Man-joo
Washington has decided to ease its restrictions on humanitarian assistance to North Korea. In addition, Vietnam and Thailand are emerging as front-runners to host a second summit between U.S. President Donald Trump and North Korean leader Kim Jong-un.
The U.S. State Department has decided to lift travel restrictions on American aid workers and loosened its block on humanitarian supplies destined for North Korea, according to the Foreign Policy on Friday. And this decision was communicated to the humanitarian aid organizations on Wednesday by Stephen Biegun, the U.S. Special Representative for North Korea.
The decision follows claims by United Nations and private relief organizations that the U.S. policy was hitting their efforts to run life-saving relief operations, and it also seems to be part of a gesture of appeasement to find a breakthrough in stalled denuclearization talks. Last month, Mr. Biegun visited Seoul for four days of talks with South Korean officials and said the U.S. will review easing a travel ban on the North to ensure Americans can deliver humanitarian assistance to the North.
The Foreign Policy said such lifting of North Korean sanctions marked the first significant step in months by the Trump administration to ease its "maximum pressure" campaign on Pyongyang. However, the report pointed out that it's unclear whether the action was conceived as a good will gesture to Kim Jong-un's regime to help facilitate further nuclear talks or was a response to mounting diplomatic pressure to soften a policy that threatened the lives of North Korean civilians.
Reports on possible venues for a second summit between Trump and Kim are following as well. Trump suggested holding the second summit with Kim in Vietnam in mid-February, Japan's Yoriuri Shimbun reported Sunday, citing officials familiar with the matter. "North Korea appears to review the U.S. proposal but has not yet given a response," the report said. Indonesia and Mongolia are being mentioned as possible candidates, but Vietnam is actually being considered as a venue.
Singapore's Strait Times also reported that Vietnam and Thailand are on the "shortlist" for the second Trump-Kim summit and that both countries are willing to host the event, citing Washington sources. Both have diplomatic ties with Pyongyang and Washington, and have ability to hold such political events.
In fact, Thailand has hosted major multilateral conferences in Bangkok and Hua Hin. Bang while Phuket and Pattaya have facilities to accommodate such events. Vietnam has also successfully hosted the Asia-Pacific Economic Cooperation (APEC) Summit, where Trump attended in 2017. Previously, a senior Vietnamese government official said on Friday that there is no official information on the second U.S.-North Korea summit, but the Vietnamese government is "ready to host upon request."