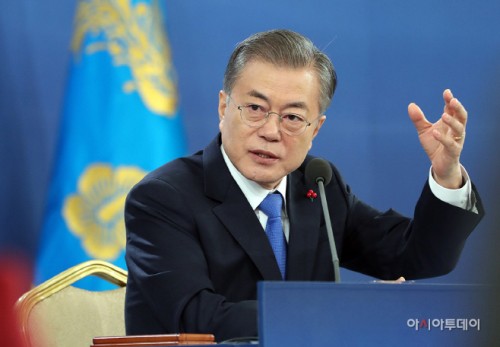 South Korean President Moon Jae-in answers reporters' question during his New Year news conference at the presidential Blue House in Seoul on Jan.10./ Source: Cheong Wa Dae
By AsiaToday reporter Lee Seok-jong
In a New Year's address on Thursday, President Moon Jae-in has expressed his strong will to resolve job crisis as the government's top priority for 2019. The president stressed that he will let the people sense the outcome of his administration's economic policies. He also revealed that he replied to the letter from North Korean leader Kim Jong-un last year, and emphasized the need of denuclearization and peace settlement on the Korean Peninsula as well as inter-Korean economic cooperation for economic development.
President Moon Jae-in focused mostly on economic issues while delivering a 28-minute opening speech to reporters at his office Cheong Wa Dae. A 90-minute press conference followed, where Moon revealed his stance on various issues, including inter-Korean relations, the special inspection team controversy, and flexible working hour system.
In his opening remarks, Moon said, "Job reports have not lived up to quantifiable expectations. Self-employed business owners are complaining about difficulties. Conventional flagship manufacturing continues to falter. An improvement in the redistribution of income cannot be felt."
"However, I want to emphasize that the hardships we are suffering now are even stronger proof of the need for the people-centered economy. We will achieve the goal of an innovative, inclusive nation by all means while sufficiently making up for any shortcomings," the president said.
In particular, President Moon emphasized once again that this year's objective is to "make sure the people clearly sense in their own lives the government's economic policy is heading in the right direction."
During a Q&A session, Moon said, "The sluggishness in employment data was the biggest pain. The most important task of the government is how to handle it."
In relation to North Korean leader Kim Jong-un's Seoul visit, Moon said, "If a second US-North Korea summit talks is held first, Kim's reciprocal visit to Seoul would take place more smoothly."
Regarding Kim's handwritten letter, Moon said, "I also sent a handwritten letter with all my heart. It is difficult to reveal the details, but I expect more frequent meetings with Kim by exchanging letters and I hope to make progress in inter-Korean relations and denuclearization."
When asked about the relationship between South Korea and Japan, Moon said, "The Japanese government should take a more humble attitude. The Japanese politicians and leaders are politicizing the issue (of South Koreans forced to work by Japanese firms during World War II). I don't think it is a smart attitude."