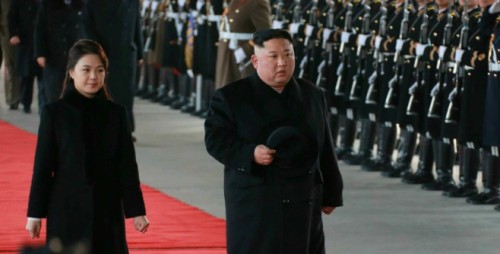 North Korean leader Kim Jong Un walks with his wife Ri Sol Ju at Pyongyang Station in Pyongyang, North Korea, before leaving for China. Kim arrived in Beijing on Tuesday for his fourth summit with China's Xi Jinping./ Source: Yonhap
By Beijing correspondent Hong Soon-do & Washington correspondent Ha Man-joo
A special train carrying North Korean leader Kim Jong-un arrived at a Beijing railway station around 10:55 am Tuesday local time. This is Kim's fourth visit to China amid speculation that he will coordinate with Chinese President Xi Jinping ahead of a second U.S.-North Korea summit. In the meantime, U.S. Secretary of State Mike Pompeo stressed the role of China as a good partner for denuclearizing North Korea regardless of the trade war between the two countries.
Kim's train arrived at Beijing's North Station under the heavy security of the Chinese police. The North's leader was accompanied by his wife Ri Sol-ju and several senior officials, including nuclear negotiator Kim Yong-chol, Foreign Minister Ri Yong-ho and the ruling Workers' Party's Central Committee vice chairman Ri Su-yong. Kim and his delegation were then escorted by Chinese police to the Diaoyutai State Guesthouse at around 11:16 am.
During his four-day visit, Kim is expected to share his plans with Chinese President Xi Jinping in a meeting at the Great Hall of the People and seek his advice before the possible second Washington-Pyongyang summit while seeking ways to improve Beijing-Pyongyang relations. In particular, Xi is likely to celebrate Kim's 35th birthday while celebrating the 70th anniversary of establishing diplomatic ties this year as well.
Kim's Beijing visit suggests China will be playing an active role on the situation on the Korean Peninsula, where the two Koreas and the United States were the major players last year. In an interview with CNBC on Monday, U.S. Secretary of State Mike Pompeo said the trade dispute and the North Korean crisis are not linked together. "The Chinese have been very clear to us that these are separate issues," Pompeo said. "Their behavior has demonstrated that as well and we appreciate that."
"China has actually been a good partner in our efforts to reduce the risk to the world from North Korea's nuclear capability. I expect they will continue to do so," he said. His remark indicates that although the United States and China are in a trade war, they are working together to denuclearize North Korea. The U.S. has been stressing the role of China since the summit between U.S. President Donald Trump and Chinese President Xi Jinping in Buenos Aires last December. This is quite different from Trump's past stance as he had accused China of leveraging the North Korean issue for the US-China trade issues whenever the N. Korea-US denuclearization talks had stalled.
The fact that the Trump administration's emphasis on China's role became prominent since a 90-day trade war truce declared between Washington and Beijing paradoxically shows that the denuclearization negotiations and the U.S.-China trade war are closely related. In other words, China should play a decisive role in resolving the North Korean crisis.