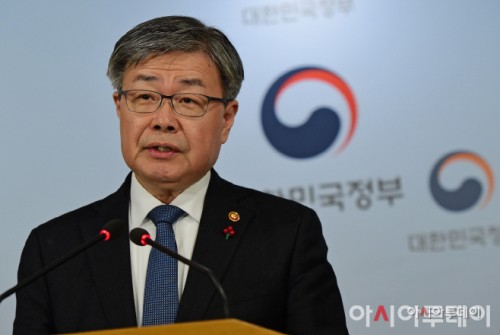 Employment and Labor Minister Lee Jae-kap/ Photographed by Song Eui-joo (songuijoo@)
AsiaToday reporter Park Eun-hee
A draft plan to overhaul the decision-making process on minimum wage has been unveiled for the first time in 30 years. The government will reform the decision-making process of the Minimum Wage Committee by considering the employment rate, economic situations as well as social security benefits linked with the minimum wage while creating an additional committee consisted of experts tasked with determining the range of possible minimum wage hikes.
Employment and Labor Minister Lee Jae-kap on Monday announced the plan during a press briefing at the government complex in Seoul. Under the plan, the committee's role will be divided into two sub-bodies, one setting the wage hike range and another deciding the actual rate.
"The draft plan was created in consideration of international standards set by the International Labor Organization to guarantee workers' livelihood, employment and economic conditions," Lee said.
"Based on an analysis of statistics and on-site monitoring, the committee will be able to set the wage hike rake in an objective and reasonable manner," the minister said. Regarding the selection of delegates representing the public interest, the government is reviewing transferring partial recommendation rights to the National Assembly or to labor and management organizations. Previously, the government had recommended the delegates representing the public interest.
"These changes will help minimize time-wasting debates that have been repeated in the minimum wage decision-making process," the minister said.
"Starting with an expert forum on January 10 on reforming the new minimum wage-setting system, the government will launch discussions intensively this month," Lee said. "For ten days starting January 21, the government will gather public opinion on the new system on-line."