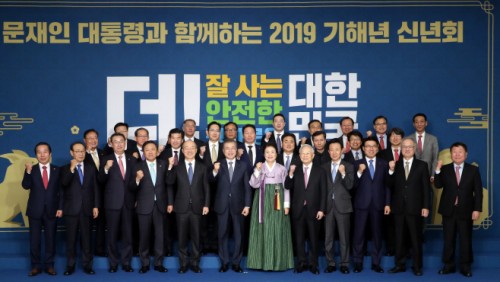 President Moon Jae-in and first lady Kim Jung-sook take a photograph with business leaders during a New Year's event held at the Seoul headquarters of the Korea Federation of SMEs on Jan. 2, 2019./ Source: Yonhap News
By AsiaToday reporter Lee Seok-jong
President Moon Jae-in on Wednesday pledged to create a favorable environment for companies to invest. He also said he will make efforts to make sure the people feel the outcome of his economic policies in their lives.
In a New Year's message, he once again emphasized a strong will to concentrate his political capabilities on 'public economy' so that the people sense that their lives evenly improve.
It seems the president's focus this year is bettering the lives of the public by reviving the economy.
For the first time ever, President Moon Jae-in held a New Year's event at the Korea Federation of Small and Medium-sized Enterprises in Seoul on Wednesday. The move shows his willingness to focus on public economy along with creating jobs.
"In the end, economic development and new jobs come from corporate investment," the president said. "I will make efforts to create a favorable environment for companies to invest."
"For corporations too, there cannot be growth without endless technological innovation and investments. The government will help so companies can actively launch investments," he said.
"We invited many business leaders. This represents one of our hopes that SMEs and self-employed business owners enjoy a thriving business."
"In 2019, I will do my utmost to help the people sense the result of our policies in their lives," the president said. "I will work to make this the first year where people's lives evenly improve and make a society with no equality."
Stressing the need for industrial innovation, Moon said the government will execute related plans, such as those for creating 30,000 smart factories, smart industrial complexes and smart cities.
"In the era of the fourth industrial revolution, intelligence information technology, digitalization and platform economy are the key issues. We will actively execute a budget for innovative growth, including data-, artificial intelligence- and hydrogen economy-related projects," Moon said.
The president pledged to create new jobs that will lead the era of the fourth industrial revolution by linking scientific technology to start-ups and innovative growth.
Regarding inter-Korean economic cooperation, Moon also vowed to achieve the New Economic Map of the peninsula initiative, link railway line running from the Korean Peninsula through China and Russia to Europe, and build a community of peace and prosperity with ASEAN and Indo-Pacific nations. "I pledge to create an era where peace can give our economy another boost," he said.
The event was attended by the country's four biggest conglomerates' top leaders – Samsung Electronics' Lee Jae-yong, Hyundai Group's Executive Vice Chair Chung Eui-sun, SK Group Chairman Chey Tae-won, and LG Group Chairman Koo Kwang-mo. Other business leaders, including Korea Chamber of Commerce & Industry (KCCI) Chairman Park Yong-maan, Korea Federation of SMEs Chairman Park Sung-taek, and Korea International Trade Association (KITA) Chairman Kim Young-ju were also in attendance.