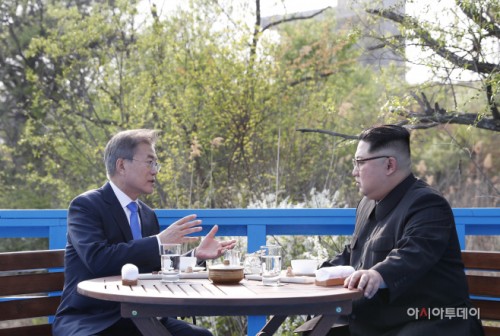 President Moon Jae-in and North Korean leader Kim Jong-un hold private talks on a bridge at the truce village of Panmunjom during their summit on April 27./ Source: Joint Press Corps
By AsiaToday reporters Lee Seok-jong & Hong Sun-mi
It looks like North Korean leader Kim Jong-un's Seoul visit before the end of the year is difficult. Besides, the US-North Korea dialogue remains stalled. However, experts say that the situation of the Korean Peninsula in 2019 is "not so pessimistic."
Many experts are cautious yet optimistic about Kim's possible Seoul visit and the second U.S.-North Korea summit, which would be the biggest driving force behind the denuclearization and peace process on the Korean Peninsula.
They predicted that the situation of the Korean Peninsula next year would be as dramatic as this year when many big events occurred, including the three inter-Korean summits and the U.S.-North Korea summit.
In particular, they forecasted the economic cooperation between the two Koreas would restart as the denuclearization and peace process on the Korean Peninsula advances.
"The events that will have the greatest impact on the Korean Peninsula in 2019 will be Kim's visit to Seoul and the second Washington-Pyongyang summit," said Cheong Seong-jang, a North Korea expert at the Sejong Institute in Seoul.
"The South Korean government should actively persuade Kim at the upcoming inter-Korean summit to proceed with brave negotiations during the second Washington-Pyongyang summit," Cheong said.
"It appears to be difficult for Kim's trip to occur within this year, but the trip will occur in the near future," a senior presidential official said.
Regarding the sequence of Kim's trip to Seoul and his expected second summit with U.S. President Donald Trump, the official said there is no stance regarding the issue. "Whatever comes first, this will help the development of inter-Korean relations and progress in Washington-Pyongyang negotiations in a virtuous cycle," the official added.
Through a report entitled, "The Korean Peninsula: Evaluations and Prospects", the Institute for Far Eastern Studies (IFES) of Kyungnam University said, "Due to strong demands for progress through Washington-Pyongyang negotiations and South Korea's strong willingness to actively intervene and change, 2019 is going to be the year of turning point in resolving the North Korean issue."
"Compared with the era of inter-Korean reconciliation and cooperation during the previous Kim Dae-jung's and Roh Moo-hyun's administrations, the peace process on the Korean Peninsula is more likely to succeed under this government," said Hong Hyun-ik, a senior researcher at the Sejong Institute.
Such prospects of the experts come from this year's evaluation that the denuclearization and peace process of the Korean Peninsula has passed the point of no return with significant achievements.
Indeed, the inter-Korean relations have advanced more than ever this year. Over the past year, North Korea has not conducted any nuclear tests or missile tests, and has also produced scenes where North and South Korean soldiers shake hands at the Military Demarcation Line (MDL) inside the Demilitarized Zone (DMZ) separating two Koreas. This was something you would never have imagined a year ago.
"The denuclearization process of the Korean Peninsula has begun to enter an irreversible phase," said Chung Eui-yong, the head of the National Security Office at the presidential office Cheong Wa Dae. "North Korea too believes this process cannot be reversed," Chung added.