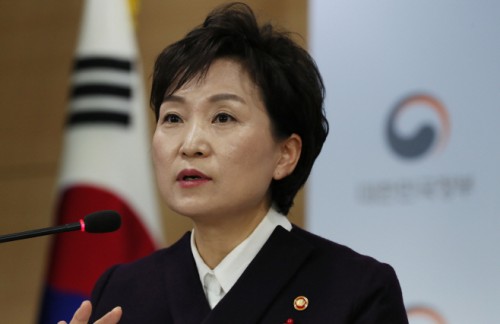 Land Minister Kim Hyun-mee listens to a question from a reporter after delivering a briefing on the government's plan to create 155,000 homes and the sites for them, held at a government complex in Seoul on Wednesday./ Source: The Ministry of Land, Infrastructure and Transport
By AsiaToday reporter Cheong Ah-reum
Sites for new towns and cities near Seoul to supply 155,500 homes have been revealed.
The Ministry of Land, Infrastructure and Transport announced on Wednesday the second stage of its plans to supply more homes to alleviate the lack of housing in the Seoul metropolitan area.
"We plan to create four large-scale housing sites of more than one-million square-meters in Namyangju, Hanam and Gwacheon in Gyeonggi Province, and Gyeyang in Incheon. Along with 37 smaller sites in Seoul, Incheon and Gyeonggi Province, we plan to provide a combined 155,000 houses," said Land Minister Kim Hyun-mee in a press conference.
By region, Seoul is expected to host 18,720 households in 32 sites while Gyeonggi Province will provide 118,800 houses in 8 sites. Incheon will offer 17,000 new homes.
The ministry explained that those sites are currently underdeveloped or protected from development.
It plans to speed up its public transit roadmap for the new suburbs to help shorten the commuting time between Seoul and the selected sites.
The new homes will be supplied starting in 2020. The ministry plans to complete its designation of sites by the second half of next year.
The government plans to compensate the land owners by giving them other lands instead of cash in order to speed up its supply of houses.
The selected locations will allow residents to commute to central Seoul within 30 minutes with its new transport infrastructure while creating jobs.
With the locations of 190,000 homes now revealed, Kim said the remaining 110,000 will be announced in the first half of next year.