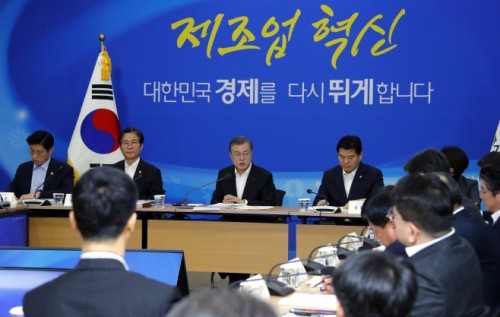 President Moon Jae-in speaks in a meeting with officials from the Ministry of Trade, Industry and Energy held at the government complex in Sejong on Tuesday to be briefed on the ministry's policy objectives for 2019./ Source: Yonhap News
By AsiaToday reporters Joo Sung-sik & Lee Seok-jong & Cho Sang-eun
The government pledged Tuesday to create jobs through manufacturing innovation, people-oriented agricultural reform, and inclusive environmental policy. In the manufacturing sector, it plans to create 26,000 jobs by 2022 by revitalizing industrial and employment crisis areas such as North Jeolla Province. In the agricultural sector, it will continue to expand employment capabilities of the agricultural sector. It also plans to create 24,000 green jobs by strengthening support for core eco-friendly businesses.
On Tuesday, the Ministry of Trade, Industry and Energy, the Ministry of Agriculture and Forestry, and the Ministry of Environment briefed President Moon Jae-in over their management plans next year in a meeting held at the government complex in Sejong.
The Industry Ministry briefed the president over its manufacturing revitalization and innovation strategy, which focuses on economically revitalizing industrial crisis zones, upgrading the competitiveness of the country's four major industry sectors, and supporting private companies that are engaged in new industries. The ministry said it will create 26,000 jobs by 2022 by implementing 14 revitalization projects across the country that have been battered by restructuring in auto and shipbuilding industries.
The ministry also vowed to upgrade the competitiveness of the country's four major export sectors such as semiconductors and displays with an aim to raise the added value created in the sector to 30 percent, which is equivalent to the level of advanced countries, within the next four years. It also announced a policy package to support the cash-strapped auto parts makers that includes providing financial support worth over 3.5 trillion won (US$3.10 billion).
"Innovation in the manufacturing industry should be the core pillar of an industrial development strategy to reach the goal of innovative growth and inclusive country," said the president.
"We have a history of industrial development that the world envies," Moon said. "If we revitalize our traditionally leading industries and cultivate new industries through manufacturing innovation and development, I am confident that the South Korean economy will rebound."
The president was then briefed by the agriculture ministry on its policy objectives focused on people-oriented agricultural reforms.
To this end, the agriculture ministry said it will make tangible outcome of the policies next year by focusing on six key tasks, such as creating jobs for young people, cultivating smart farming, reorganizing direct payments, expanding renewable energy, revitalizing local food production, and strengthening management of agricultural and livestock products.
The environment ministry presented its inclusive environmental policy that puts the people's basic right to clean environment in the first priority.
The environment ministry said it will focus on issues such as responding to dust, preparing for integrated water management, expanding customized environmental welfare services, revitalizing the green economy, and creating green jobs.