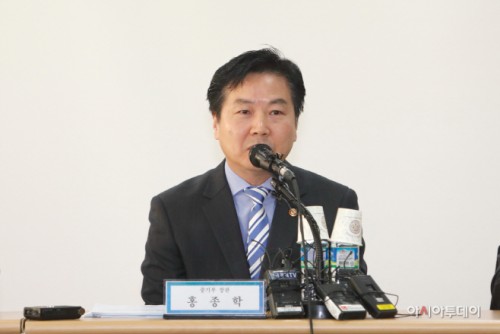 Hong Jong-hak, minister for Small and Medium Enterprises, explains about the government's "Smart Manufacturing Innovation Strategy for SMEs" in a briefing session in Seoul on Thursday./ Source: The Ministry of SMEs and Startups (MSS)
By AsiaToday reporters Joo Sung-sik & Oh Sae-eun & Hong Sun-mi
The government plans to build 30,000 smart factories by 2022 to upgrade the nation's manufacturing industry. It also plans to create 10 smart industrial zones and incubate up to 100,000 skilled smart factory specialists. In addition, it set a goal of reducing industrial accidents by 30 percent by creating safe environments to work.
Nine economy-related ministries, including the Ministry of Trade, Industry and Energy (MOTIE) and the Ministry of SMEs and Startups (MSS), unveiled 'Smart Manufacturing Innovation Strategy for SMEs' in a briefing session at South Gyeongsang provincial government building on Thursday, with President Moon Jae-in in attendance.
The vision presented by the government during the briefing was 'realizing a manufacturing powerhouse for SMEs through smart manufacturing innovation'. The key point is that the government plans to secure the world's best factory competitiveness through factory innovation while establishing a base for manufacturing innovation by innovating industrial zones and creating people-centered workplace culture by innovating workplaces. The government also presented its idea of establishing an innovation system involving regional and private entities.
In relation to factory innovation, the goal is to turn 50 percent of SMEs into smart factories to improve productivity and reduce defective rate, thereby enhancing the competitiveness of SMEs. The government will firstly support companies enforcing reduced working hours, those involved in root industry, and those whose productivity will improve significantly.
The MOTIE will provide total 2 trillion won ($1.78 billion) in funds to be used in facility investments for smart factories. Korea Development Bank will provide 1 trillion won, Industrial Bank of Korea 500 billion won and Small and Medium Business Corporation 500 billion won. The MOTIE will also create 300 billion won worth of fund to build smart factories and support suppliers.
The government plans to give incentives for large companies that support the government's project to build smart factories for SMEs. It also plans to cultivate smart factory suppliers and build a big data center and platform next year, aimed at collecting, analyzing and utilizing nationwide manufacturing data.
In addition, the government plans to increase the number of smart factory operating personnel from 50,000 to 100,000 by 2022, and create 10 smart industrial complexes. With the goal of reducing industrial accidents by 30 percent, it plans to launch labor-friendly smart factories starting from next year to create a safe working environment.
During the briefing, President Moon Jae-in mentioned some cases of manufacturing powerhouse models, including Germany's "Industry 4.0", Japan's "Society 5.0", and China's "Made in China 2025", and said, "It is time for South Korea to raise its competitiveness through innovation and make a new leap forward as a manufacturing powerhouse."