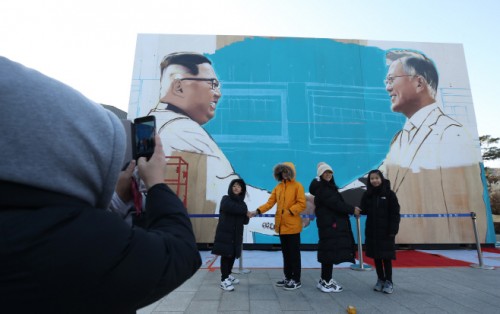 People pose in front of a giant poster of President Moon Jae-in and North Korean leader Kim Jong-un near Cheong Wa Dae on Dec. 7. / Source: Yonhap News
By AsiaToday reporters Lee Seok-jong & Heo Go-woon
Speculations are growing stronger that North Korean leader Kim Jong-un may arrive in Seoul within the year.
"The South side is already preparing for Kim's visit, yet it is keeping the plan under wraps for security and other reasons," a source familiar with inter-Korean relations said on Sunday.
"Cheong Wa Dae's message, that it is preparing for every scenario, reflects the fact that it is preparing in case Kim decides to come to Seoul tomorrow," the source said. "This is not possible without prior communication with the North."
"Even if the North did not inform the South on Kim's possible trip by Sunday, it does not mean that Kim's Seoul visit within the year is physically impossible," an expert on inter-Korean relations said.
"Mechanical time for an inter-Korean agreement on Kim's visit is not a big deal," the expert said. "Since the South is preparing, Kim's visit is possible either this or next week if the North makes a decision."
Jeung Young-tae, director of the North Korea Research Institute, said, "It is possible that the North will make any announcement event before Kim's visit because the North is very cautious about Kim's schedule. This is why the South Korean authorities might be making secret preparations."
"If Seoul and Pyongyang are communicating only internally about Kim's Seoul trip, it will not take much time for preparation," Jeung said. "Considering Kim's image as well as inter-Korean relations and Washington-Pyongyang talks, they are likely to push for Kim's visit within the year."
Cheong Wa Dae said Kim's trip has not been determined yet, but they are preparing for every scenario.
"The government has been preparing and is leaving all possibilities open," said Cheong Wa Dae spokesperson Kim Eui-kyeom. "Nothing has been confirmed."
"As various factors need to be considered for Kim's Seoul visit, we have no intention to hurry or push the North," Kim said. "The willingness of the two leaders for the Pyongyang Declaration is clear, and we will continue to discuss the specific schedule and procedures."
Kim's statement indicates that the South is still discussing the specific schedule and procedures with the North. It seems that the two Koreas can reach consensus about specific schedule and procedures and make an announcement soon.