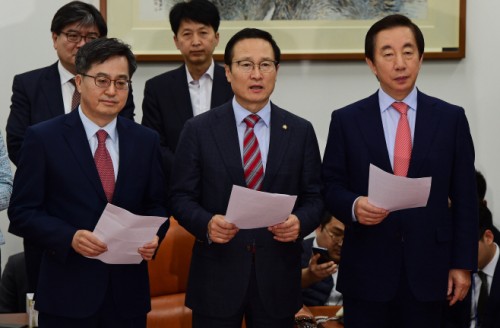 The ruling Democratic Party (DP) and the main opposition Liberty Korea Party (LKP) on Thursday reached an agreement to pass the government's 2019 budget bill./ Photographed by Song Eui-joo
By AsiaToday reporter Lim Yoo-jin
The ruling Democratic Party (DP) and the main opposition Liberty Korea Party (LKP) on Thursday reached an agreement to pass the government's 2019 budget bill. In particular, they agreed to cut more than 5 trillion won from the government's bill. They agreed to reduce the number of newly hired public servants by some 3,000. However, the agreement did not include electoral reform, drawing opposition from the three minor parties, including the Bareunmirae Party, Party for Democracy and Peace, and Justice Party.
At the National Assembly, Democratic Party floor leader Hong Yong-pyo and Liberty Korea Party floor leader Kim Sung-tae officially announced the agreement reached on the government's 2019 budget bill. The DP and LKP are scheduled to handle the budget bill at a plenary session on Friday.
The rival parties agreed to cut more than 5 trillion won from the 2019 budget bill. Under the agreement, they agreed to cut some spending on job creation and inter-Korean cooperation projects.
In particular, they decided to reduce some 3,000 public servants among the number requested by the government for 2019 except required manpower.
From January 2019, a monthly allowance of 100,000 won will be given to each household with a child under 5 years old regardless of income level. From September 2019, the allowance will be extended to children up to 84 months old. In order to tackle low birth rate, the parties decided to draw up measures to dramatically improve the maternity support system, such as expansion of child allowance, subsidy to encourage childbirth, and expansion of infertility treatment.
The parties also plan to adjust the 2019 social overhead capital (SOC) budget to boost the economy, create jobs, and promote balanced regional development. Local consumption tax will be increased from 11 percent of VAT to 15 percent to expand local self-funding.
In addition, the 2019 budget bill will be approved at the plenary session on Friday. While the parties agreed to maintain the Earned Income Tax Credit (EITC) the same as the government's bill, they plan to ease the tax burden of comprehensive real estate tax on households with two houses within the zones classified as adjustment target to 200 percent.
The parties said the government will effectively fill the 4 trillion-won shortfall in tax revenue by repaying debt in advance within this year. For next year, state bond sales will be limited to 1.8 trillion won.