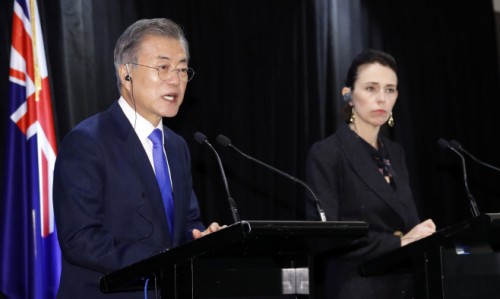 President Moon Jae-in holds a joint press conference with New Zealand Prime Minister Jacinda Ardern at the Cordis Hotel in Auckland on December 4./ Source: Yonhap News
By AsiaToday reporters Lee Seok-jong & Heo Go-woon
There is a growing possibility that North Korean leader Kim Jong-un will visit Seoul.
"There is a possibility that Chairman Kim Jong-un's Seoul visit may be made within the year," President Moon Jae-in said in a joint press conference, with New Zealand Prime Minister Jacinda Ardern, held shortly after their bilateral summit at the Cordis Hotel in Auckland on Tuesday.
"Ever since South and North Korea were divided into two countries, this will be the first time that a North Korean leader will visit South Korea," Moon said. "I hope it will contribute greatly to the progress of reconciliation and peace between the two Koreas, and even to the progress of denuclearization," Moon said.
Moon has repeatedly stressed the importance of Kim's Seoul visit within the year since his summit with US President Donald Trump last month.
He has been claiming that Kim's Seoul visit would play a practical role in facilitating denuclearization talks between Pyongyang and Washington, and that his visit as the first North Korean leader would be a big event in the world's history.
Kim's visit to Seoul has great historical significance. He would be the first North Korean leader to visit Seoul, Gwanghwamun, and even Jeju Island since the armistice agreement in 1953.
"Chairman Kim's Seoul visit itself would be a dramatic event in the world's history," said Kim Yong-hyun, a professor of North Korean studies at Dongguk University in Seoul.
"If Kim makes a visit to Seoul, he will be keeping his promise. And if he delivers a speech in Seoul properly, Kim's image in South Korea will be greatly improved. It will be a great opportunity to highlight the peaceful image of North Korea to the international community," said Jeong Se-hyun, director of the Korea Peace Forum.
There are differing views about the timing of Kim's visit.
"Kim might visit Seoul before December 17, the date of previous North Korean leader Kim Jong-il's death. It would be nice if he could say he achieved something that his father failed to do," said Lee Joon-hyuk, a research fellow at the Institute for National Security Strategy.
"The inter-Korean intelligence authorities probably have made contact with each other as there are rumors that North Korea cleared its schedule on December 18 to 20. It would be hard for Kim to make a trip before the anniversary of his father's death. His visit would be around December 18 to 20," Jeong said.
Regarding the matter, Moon said, "Whether it's this year or not is not that important, what's important is that Chairman Kim's visit will definitely accelerate the denuclearization process in the Korean Peninsula."