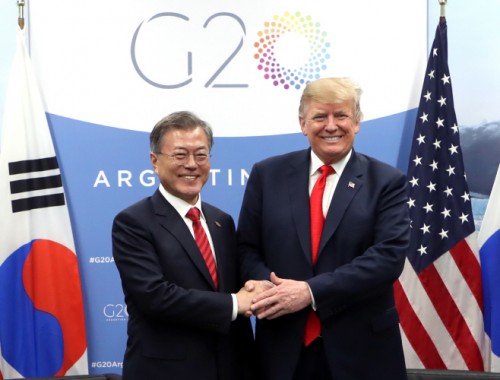 President Moon Jae-in and US President Donald Trump agreed Chairman Kim Jong-uns visit to Seoul would provide an additional momentum to their joint efforts to establish peace on the Korean Peninsula, in a bilateral summit at the Costa Salguero Center in Buenos Aires, Argentina, on November 30./ Source: Yonhap
By AsiaToday reporter Lee Seok-jong
In a bilateral summit between President Moon Jae-in and US President Donald Trump on November 30, the two leaders agreed Chairman Kim Jong-un's visit to Seoul would provide an additional momentum to their joint efforts to establish peace on the Korean Peninsula.
Such understanding of the two is raising expectations for Kim's trip to Seoul within this year.
Moon's top press secretary, Yoon Young-chan, said that the two leaders agreed that Kim's Seoul visit would provide a momentum for peace settlement, at the 30-minute bilateral summit held on the sidelines of the Group of 20 meeting at the Costa Salguero Center in Buenos Aires, Argentina.
"While affirming his commitment to holding a second North Korea-US summit early next year, President Trump asked that South Korea and the US closely cooperate so the next summit will be another historical milestone in the process of denuclearizing the Korean Peninsula," Yoon said.
As a result, many argue that Kim's Seoul trip is likely to take place before the year's end ahead of the second North Korea-US summit with a belief that Kim's Seoul visit could become a new dynamic force, leading the success of the second North Korea-US summit.
The South Korean government already believes that the Moon-Kim meeting would provide a breakthrough in the stalled Washington-Pyongyang negotiations and play a significant role in leading the success of the second Trump-Kim summit.
In addition to this, President Trump reaffirmed his commitment to a second summit with Kim at the talks with Moon, raising such possibility even more.
With regard to Kim's visit within the year, a senior official from Cheong Wa Dae said, "We are discussing it while leaving all possibilities open. President Trump is aware that an inter-Korean summit can be held this year."
When asked if an inter-Korean summit could take place before the Trump-Kim summit, the high-ranking official said, "We are very positive about the outcome of the talks today."
If Kim Jong-un's visit is successfully arranged, it could take place around Dec. 13-14.
The government is rumored to be preparing for Kim's potential trip, and Cheong Wa Dae is not denying it, stating, "We are making preparations under various scenarios."
However, some observers say that it is too early to say Kim's visit to Seoul would take place within the year because it depends on Kim's decision.