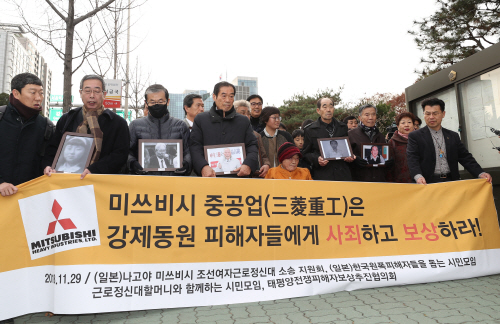 Plaintiffs in a wartime labor case involving Mitsubishi Heavy Industries head toward South Korea's Supreme Court in Seoul on Thursday./ Source: Yonhap
By AsiaToday reporter Heo Gyeong-joon
"Mitsubishi must apologize and compensate."
Kim Seong-ju, 90, one of the forced labor victims at the Korean Women's Volunteer Labor Corps during World War II, made the remark on Thursday after the South Korean Supreme Court ordered the Japanese company to pay each of the plaintiffs between 100 and 150 million won in compensation for their forced labor.
The Supreme Court upheld lower court ruling against the Japanese company Mitsubishi Heavy Industries Ltd., and ordered to compensate four elderly female victims and a relative of a plaintiff who has died.
The female victims, including Kim, had filed a lawsuit against the Japanese government and the Japanese company for compensation in Japan in 1999, claiming they were tricked into joining the Korean Women's Volunteer Corps and were forced to work without pay at a Mitsubishi aircraft plant in Nagoya, Japan, in 1944.
As expected, they finally lost at Japan's highest court in November 2008. They took the case to a court in South Korea in 2012, and Mitsubishi became liable to pay damages at the first and second trials. But the Japanese firm has continuously appealed, ultimately landing the case in the Supreme Court.
The country's top court ruled in favor of Kim and other victims. The court said that the case of the Japanese company's anti-humanitarian wrongdoings falls outside of the scope of the controversial 1965 Korea-Japan Settlement Agreement. Regarding the defendant's argument that the statute of limitations for making claims has expired, the Supreme Court said it upheld the lower court's ruling that rejecting the performance of obligations to the plaintiffs is unjustified and amounts to the abuse of power, which is contrary to the principle of good faith.
In a separate ruling, the top court also ordered Mitsubishi to pay 80 million won to each of six men who said they were subject to forced labor at a Mitsubishi shipyard and machine tool factory in 1944. Previously, the plaintiffs lost the first two trials at lower courts under reasoning that the statute of limitation for damages claim was completed.
But in 2012, the top court sent the case back to the second trial, saying that the defendant's claims, that the statute of limitations for making claims has expired, are not allowed as they are against the principle of good faith. At the second trial, the court ordered Mitsubishi to pay 80 million won to each of the victims.