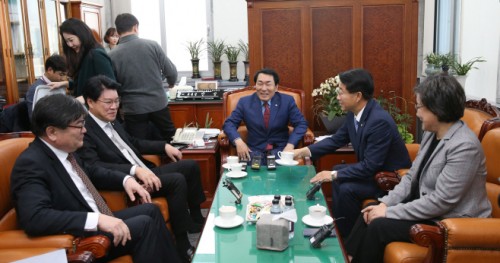 Ahn Sang-soo, Chairman of the Special Committee on Budget and Accounts, Cho Jung-sik of the ruling Democratic Party, Chang Je-won of the main opposition Liberty Korea Party, Lee Hae-hoon of the Bareun Mirae Party, and Kim Yong-jin, 2nd Vice Minister of the Ministry of Strategy and Finance met on Wednesday to discuss the resumption of deliberation on the government's budget plan for next year./ Photographed by Song Eui-joo (songuijoo@)
By AsiaToday reporter Lim Yoo-jin
Although the National Assembly's Special Committee on Budget and Accounts resumed Wednesday, ending a three-day impasse, the National Assembly is likely to carry out a hasty budget deliberation ahead of this weekend's deadline.
If the budget review is handled in a hasty manner, the people would be hit by it. In a last-minute meeting on Wednesday, rival parties agreed to normalize parliamentary operations, including that of the Special Committee on Budget and Accounts, concerning that they would face public criticisms over delayed budget review and public welfare bills.
The ruling and opposition parties have been repeatedly dealing with the budget review at the last minute with a rush. Most of the time, they have passed a legal deadline for the budget review.
This year, it seems virtually impossible for the National Assembly to handle the review within the deadline. Besides, the plenary session is set to be held on Friday since the legal deadline is Sunday. Furthermore, the government's budget bill for next year is record-high 470.5 trillion won (US$416.6 billion), which is almost double-digit percentage increase from this year's budget.
Considering the size of the budget, the shortage of time, and the rough battle between the ruling and opposition parties, it is evident that the parliament will carry out the budget review roughly. Critics say it is a serious dereliction of duty.
In a phone interview with AsiaToday, professor Yoon Chang-hyun of University of Seoul said, "It is the responsibility of the National Assembly, the representative body of the people, to carry out the budget review more thoroughly."
"A hasty review that wastes the tax-payers' precious money would become a subject of criticism," Yoon said. "Despite physical limitations to meet a deadline, the National Assembly should concentrate so that the budget can be allocated in the fields that are really necessary for public welfare."
As if being conscious of public criticism, the committee's chairman, Ahn Sang-soo, and the representatives of the ruling Democratic Party and two major opposition parties agreed to resume deliberation on the budget plan for next year. They said, "We will make progress as soon as possible so that it can be passed to the subcommittee for budget review."