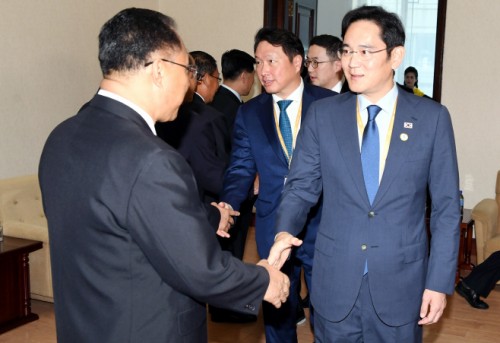 North Korea is trying to benchmark successful cases of reform and opening up to achieve economic prosperity. North Korea's foreign minister Ri Yong-ho is scheduled to visit Vietnam this week to learn more about the Vietnamese model of development, known as "Doi Moi." Besides, North Korean economic officials, who attended the International Finance Forum (IFF) in China, said that China's reform and opening up serve as model for its financial sector revealed that the North aims to become the 'next Singapore.' The image shows South Korean business leaders attending a meeting with North Korean economy chief Ri Ryong-nam at People's Culture Palace in Pyongyang on Sept. 18./ Source: Pyongyang Joint Press Corps
By AsiaToday Washington correspondent Ha Man-joo
North Korea is trying to benchmark successful cases of reform and opening up to achieve economic prosperity. North Korea's foreign minister Ri Yong-ho is scheduled to visit Vietnam this week to learn more about the Vietnamese model of development, known as "Doi Moi." Besides, North Korean economic officials, who attended the International Finance Forum (IFF) in China, said that China's reform and opening up serve as model for its financial sector revealed that the North aims to become the 'next Singapore.' North Korea's push to benchmark successful models of reforms, no matter whether it's Vietnam- or China-style, reminds of Deng Xiaoping's famous "cat theory" of economic reform. Deng had said that it doesn't matter whether a cat is black or white, as long as it catches mice.
Vietnam's foreign ministry said Monday that Ri is to visit Vietnam at the invitation of Pham Binh Minh, Vietnam's foreign minister and deputy prime minister. Ri is expected to visit the Ho Chi Minh Mausoleum before holding a meeting with Pham and meeting Vietnamese Prime Minister Nguyen Xuan Phuc on Friday. Ri's state visit begins on Thursday and ends on Sunday, Vietnamese online media VN Express reported Monday.
Ri told the Vietnamese government he wanted to learn about Vietnam's experience with economic development, according to the report. For this reason, the top North Korean diplomat is likely to visit key industrial zones in the northern port city of Hai Phong, and meet with economic experts for in-depth discussions.
Previously, North Korean leader Kim Jong-un had said that he aims for Vietnam-style reforms, at his April 27 historic summit with President Moon Jae-in. In this regard, the Nikkei analyzed on June 20 that Mr. Kim is likely to pursue Vietnam-style reform, which prefers bold international moves and meticulous management of domestic issues.
Hong Kong's South China Morning Post (SCMP) reported Monday that four North Korean economic officials explained the establishment of North Korea's economic development zones, its appetite for overseas investment, and its desire to emulate other nations' advanced financial systems, in their speeches at the 15th annual IFF conference held last week in Guangzhou, China. "We will look for more opportunities to cooperate with the international community in the future, including the IFF," said Ri Chol-suk, general director of Economic Department Bureau of the Ministry of External Economic Affairs. "So we will be able to introduce to the world more about the economic development and investment opportunities in the DPRK," Ri added.
The SCMP said Ri led a team in charge of North Korea's economic development zones as well as international economic and financial cooperation. During the discussion, the North Korean officials told the gathering that attracting more foreign capital to the country's development zones was their top priority, according to the report.
"We need to take an opportunity to promote our opening to the outside world, especially economic cooperation and exchange with China," said So Jong-chan, general director of department of treaty and law at the Ministry of External Economic Affairs. "We are promoting a series of tourism and advanced technology development zones to attract foreign investment," So said. Hwang Chung-gwon, senior officer of Department 18 of the Presidium of the Supreme People's Assembly, stressed that North Korea's grand plan is to become the 'next Singapore'. "Finance is not just an issue for one country, but a field involving global cooperation," Hwang said. "We will promote communications and cooperation with other countries in the financial sector."
The SCMP reported that North Korea's attendance of an international economic conference is the beginning of Pyongyang's efforts to engage with the outside world to improve its economy with the easing of the military tensions on the Korean Peninsula this year.